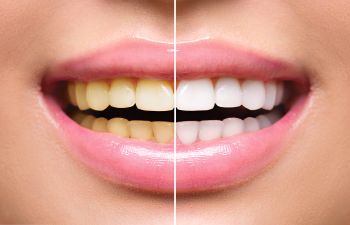 Professionally whitening your teeth is one of the most popular ways for patients to enhance the appearance of their smile. Teeth whitening can lighten your teeth by several shades and help you look younger and more attractive with just one simple office visit. Compared to other cosmetic dentistry services, teeth whitening tops the list in affordability and convenience.
Here are a few reasons why you should talk to your dentist about teeth whitening for yourself:
Fast Results

When offered by a ZOOM! Teeth Whitening dentist, your professional whitening treatment can be completed in as little one hour. Just one office visit can reverse months or years of dingy tooth stains caused by coffee, red wine, berries, tomato sauce or tobacco.

Affordable

Bleaching your teeth is also an economical cosmetic dental service. Compared to other dental procedures that change the shade of your teeth (veneers, bonding, crowns), you'll be spending much less out of pocket. Professional whitening can even be more cost-effective than store-bought whitening kits that typically need to be purchased and used more often for the same results.

Noninvasive, Painless

Teeth whitening only requires you to wear a mouthpiece and sit comfortably in a chair. Unlike porcelain veneers or other cosmetic dental treatments, there is no needles, drilling, shaping or bonding involved in a professional teeth whitening treatment.

Easy Smile Makeover

If you are already satisfied with the size, shape and alignment of your front teeth, teeth whitening can be the only small step you need to take to achieve the smile of your dreams. If you want a smile makeover, don't dismiss the power of teeth whitening before you assume you'll need expensive, lengthy or invasive dental procedures.
Teeth Whitening in Davidson
Would whiter teeth help you feel more confident in your smile? To learn more about one hour ZOOM! Teeth Whitening in Davidson, call Smiles by Seese. We are experts at enhancing smiles.
Posted on behalf of Smiles By Seese
610 Jetton St. Suite 250
Davidson, NC 28036
Phone: (704) 895-5095
Email: info@smilesbyseese.com
Monday (once/month): 8AM – 5PM
Tuesday - Thursday: 8AM – 5PM
Friday: 8AM – 3PM