Dental Implant Restoration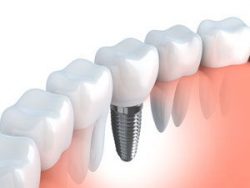 Dental implants allow you to replace your natural teeth with an artificial tooth. Implant restorations are the permanent tooth replacements that go over the abutment of the dental implant. The types of implant restorations that Smiles by Seese offers are:
Porcelain Implant Crowns
Cosmetic Dental Bridges
Implant Dentures
Having your implant restoration installed at Smiles by Seese is very simple. Each implant has an abutment over at which supports the restoration. We simply take an impression of this abutment and then send it to our laboratory where your cosmetic implant restoration is made. We have each restoration made out of porcelain, which is both durable as well as aesthetically pleasing.
Restore Implants for a Beautiful Smile
Within two weeks, your implant restoration is ready to be delivered. Simply come back into our dental office and we will install the restoration over your abutment. If any adjustments are needed, we will make them at this time. Dr. Seese will then permanently bond the restoration onto your implant. When your implant restoration is finally installed, it is as if you have a permanently new tooth.
Well cared for dental implants can last your entire life. Taking care of your implant is similar to caring for your natural teeth. We recommend brushing the implants twice a day and flossing around it once a day. Remember to come by Smiles by Seese every six months for a preventive cleaning to keep your gum tissues healthy around your implants.
Which type of implant restoration is right for you? A cosmetic dental crown? A fixed porcelain bridge for your missing teeth? A full mouth implant denture? You have many different options to choose from. Contact our office today to schedule your implant restoration evaluation.