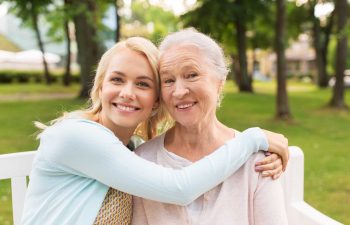 Traditional (or removable dentures) have come a long way in terms of comfort and aesthetics in the past decade. Unfortunately, many patients still suffer from dentures that slip out of place when eating, speaking or laughing. Not feeling confident in the stability of your own teeth can undoubtedly threaten your quality of life. You may cover your mouth when you laugh hard with friends or avoid certain foods when you're out to dinner due to fear of your prosthetic teeth becoming loose. Instead of making frequent appointments to get your dentures relined and achieve a better fit, we invite you to consider implant-supported dentures.
Implants Can Change Your Denture Game
There is a strong distinction between traditional dentures and dentures that are anchored by dental implants. While traditional dentures rest on the gum line and are held in place by adhesive cream, implant-supported dentures are anchored into the jawbone using a set number of surgically placed dental implants. Since the dental implants act like tooth roots, your denture can be held in place just like your real teeth. This is known as denture stabilization and it is a welcome, game-changing solution to those who struggle to find confidence in their traditional dentures.
When stabilizing your dentures with dental implants, each case is unique. Your implant dentist will consider several factors to determine how many dental implants you will need to gain the most stable dentures. It depends on whether or not it is an upper or lower denture as well as if it is a full or partial. If you have experienced bone loss in your jaw due to missing teeth, you may require more implants to achieve longer-term stability. In some cases, bone grafting may be needed in order to fully support dental implants.
At Smiles by Seese, we would love to help you find stability in your replacement teeth. Call our office today to learn more about implant-supported dentures in Davidson.
Posted on behalf of Smiles By Seese
610 Jetton St. Suite 250
Davidson, NC 28036
Phone: (704) 895-5095
Email: info@smilesbyseese.com
Monday (once/month): 8AM – 5PM
Tuesday - Thursday: 8AM – 5PM
Friday: 8AM – 3PM