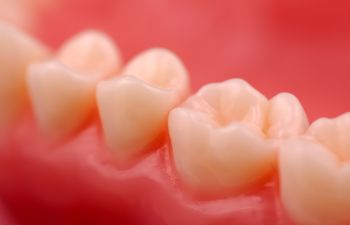 Gum disease is one of the most common oral health conditions. Unfortunately, it is also one of the most serious. While early stages of gum disease (called gingivitis) is not alarming and easily reversed with treatment, progressive or advanced gum disease can cause serious damage to your smile and entire body. In fact, untreated periodontal disease is the leading cause of tooth loss among adults in the United States and has also been associated with heart disease, stroke, premature birth and more. Put simply, gum disease is nothing to ignore or dismiss.
What is Gum Disease and How Does It Develop?
Gum disease is an infection of the soft tissues that support your teeth. In most cases, gum disease begins when there is excess plaque and bacteria in the mouth, which happens when oral hygiene is not up to par. When hardened plaque lingers on the gums, it can cause the gums to swell, become tender and bleed easily. This is gingivitis.
Early gum disease can be reversed with a professional cleaning from you dentist. Therefore, if you are not consistent on your brushing habits at home, it becomes even more important to attend your routine dental visits every six months to detect and treat early gum disease.
If left untreated, the gums become infected and can pull away from the tooth roots and form deep pockets of gum tissue that harbors even more bacteria. At this stage, aggressive treatment may be needed to avoid tooth loss. Unfortunately, the infection and bacteria from gum disease can also travel to other parts of the body in late stages.
Signs of Gum Disease
It is important to recognize the early symptoms of gum disease as well as know your risk factor for this common yet serious oral health condition. A family history of gum disease, smoking and even pregnancy can make you more susceptible to periodontal disease. In such cases, you may need to schedule more frequent dental cleanings.
Have you noticed changes in the way your gums look or feel? Don't ignore it. After all, your gums are the framework of your smile! At Smiles by Seese, we proudly offer treatment for mild to moderate periodontal disease to families in the Davidson area.
Posted on behalf of Smiles By Seese
610 Jetton St. Suite 250
Davidson, NC 28036
Phone: (704) 895-5095
Email: info@smilesbyseese.com
Monday (once/month): 8AM – 5PM
Tuesday - Thursday: 8AM – 5PM
Friday: 8AM – 3PM