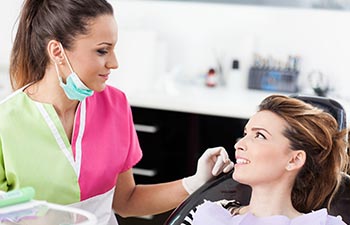 Is oral cancer on your radar this year? There are solid reasons that it should be. Oral cancer is a deadly type of cancer when it is not detected and treated early. In addition, oral cancer is not as rare as you may think. The American Cancer Society estimated that in 2019, approximately 53,000 people in the United States to get oral cancer. Of those, the ACS estimates that 10,860 of them will die from oral cancer.
Who Is at Risk?
There is convincing evidence that the following factors can raise your personal risk for oral cancer:
Tobacco use
Alcohol consumption
Human papillomavirus (HPV)
Family history of squamous cell carcinoma (SCC)
Sun (UV light) exposure
Diet low in vegetables and fruit
Oral cancer can affect any part of the oral cavity, including the throat, lips, mouth and tongue. Like any other type of cancer, the best way to protect yourself is to educate yourself and get routine oral cancer screenings from your dentist.
Warning Signs of Oral Cancer
While routine screenings are imperative in early detection, it is still important that you know the symptoms of oral cancer and what to look for at home. Let your dentist know if you experience any of the following:
Unexplained mouth bleeding
Soreness in the back of your throat
Lumps, swellings or rough spots anywhere in your mouth
Mouth sores that won't heal
Unexplained numbness
White, red or speckled patches in your mouth
Ear pain
Reasons for Oral Cancer Screenings
In some cases, the presentation of symptoms can mean the oral cancer is already in an advanced stage. This makes oral cancer screenings extremely valuable. Regular screenings can often detect oral cancer before you can. Not only can it be difficult to examine inside your mouth while looking in the mirror, but your dentist is uniquely trained to identify areas of concern and will use advanced screening techniques. There's really no excuse to get an oral cancer screening, as they can be performed in minutes with no discomfort!
We Detect Oral Cancer Early
At Smiles by Seese, every patient receives a thorough oral cancer screening as part of our family dentistry treatments. During this exam, we will check for abnormal sores that have not healed properly or lesions that appear different from other tissues throughout the mouth. Keep in mind that early detection is key. The earlier a precancerous lesion can be found, the more likely your treatment is to be a success. Should we find a precancerous lesion in your mouth, we will typically recommend a biopsy. Schedule your annual oral cancer screening today!
Posted on behalf of Smiles By Seese
610 Jetton St. Suite 250
Davidson, NC 28036
Phone: (704) 895-5095
Email: info@smilesbyseese.com
Monday (once/month): 8AM – 5PM
Tuesday - Thursday: 8AM – 5PM
Friday: 8AM – 3PM