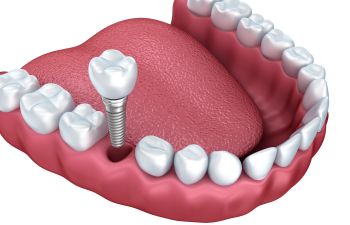 Your teeth are designed to last a lifetime. However, they are not invincible. Whether you've lost a tooth due to severe decay, traumatic injury or advanced gum disease, it needs to be replaced. A single missing tooth can cause significant consequences to your smile appearance and smile health, even if the missing tooth is in the back of your mouth.
When a tooth is missing, the adjacent teeth will begin to migrate towards the open space. This can disrupt your bite alignment and create a crooked smile that is more difficult to keep clean. In addition, patients with missing teeth can experience bone loss. Your jawbone relies on proper stimulation from your tooth roots in order to retain its volume and structure. This is why there is one tooth replacement solution that is far superior to the rest: dental implants.
Dental implants represent the gold standard in tooth replacement. They provide an artificial tooth and tooth root. Dental implants involve the surgical placement of a titanium post that fuses to the jawbone. A crown, bridge or denture is then secured on top to deliver a natural-looking and highly secure tooth replacement.
Many patients debate the decision of choosing traditional dentures versus dental implants or implant-supported dentures. Here are a few key reasons to opt for dental implants:
Convenience: Dental implants can be cared for just like your natural teeth. There is no need for messy adhesive creams or special cleaning regimes. This is a highlighted advantage for most patients.
Dietary Freedom: If you have traditional dentures, you may fear that they will slip or fall out of place while eating certain foods. This causes many patients to avoid fibrous fruits and vegetables and gravitate towards a soft, carbohydrate-rich diet instead. In the long-term, this can cause serious health implications, putting you at risk for obesity and diabetes. With dental implants, you can enjoy all of the foods you would if you had a full set of natural teeth – including hard-to-chew, nutritious choices.
Authentic: Dental implants look, feel and function most like natural teeth. Dentures, on the other hand, may look natural, but many patients don't achieve the level of confidence in them like they do dental implants. In addition, premature facial aging can be avoided, which is caused by a loss of jawbone structure.
To learn if dental implants are right for you, call Smiles by Seese in Davidson. We offer some of the most sought-after solutions in implant dentistry, including implant supported dentures. Let us rebuild your smile today.
Posted on behalf of Smiles By Seese
610 Jetton St. Suite 250
Davidson, NC 28036
Phone: (704) 895-5095
Email: info@smilesbyseese.com
Monday (once/month): 8AM – 5PM
Tuesday - Thursday: 8AM – 5PM
Friday: 8AM – 3PM