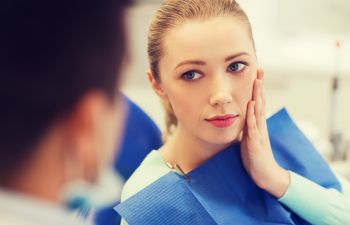 Dental problems are not always predictable. Whether you have cracked a tooth during your lunch meeting or woke up in extreme pain from an infected tooth, we realize that dental emergencies happen. The question is – where do you go when you or a member of your family has sudden tooth pain or suffered a dental injury? Unless there is uncontrolled bleeding or a high fever from a tooth infection, we encourage you to call your emergency dentist instead of the hospital emergency room.
Is the Hospital ER the Best Place to Go?
According to the American Dental Association, someone visits a hospital emergency department for dental conditions approximately once every 15 seconds on average. Dental injuries and pain can be traumatic and many patients simply want the fastest route to pain relief. However, while a hospital Emergency Department can handle your discomfort, this is often a temporary solution that does not consider your overall smile health or appearance.
Instead, your dentist not only knows your smile best, but brings expertise in restorative and cosmetic dentistry. When it comes to your dental emergencies, a dentist can repair the health and structure of your affected teeth, as well as ensure you leave with a smile that looks natural and beautiful. Unlike an ER physician, an emergency dentist has the knowledge and tools it takes to address the culprit of your dental pain and provide a long-term solution. With options in sedation dentistry, we can also handle your immediate fears and anxiety surrounding your dental trauma.
What Can an Emergency Dentist Treat?
To accommodate your urgent dental concerns, Smiles by Seese reserves time in our normal office hours to see patients who need immediate care. We offer an extensive menu of services in modern dentistry, including painless root canals, custom crowns, laser gum therapy and dental implants. Dr. Seese is a gentle and highly regarded dentist who routinely treats the following types of dental emergencies:
Toothache
Dislodged Tooth
Tooth Breakage or Chipping
Lost Filling or Crown
Dental Abscess
What if I Don't Have Dental Insurance?
Should you go to the ER because you don't have dental insurance? Not necessarily. We have an in-house "Wellness Program" that is specifically designed for patients without traditional dental insurance. This program provides discounts on everything from cleanings and x-rays to crowns and fillings – but it also includes one emergency exam per year!
If you or a member of your family is suffering from a dental emergency in Davidson, call Smiles by Seese before you head to the ER. We proudly provide state-of-the-art dental care in a comfortable, rewarding environment. Don't neglect dental discomfort or tooth damage; let us restore your smile today!
Posted on behalf of Smiles By Seese
610 Jetton St. Suite 250
Davidson, NC 28036
Phone: (704) 895-5095
Email: info@smilesbyseese.com
Monday (once/month): 8AM – 5PM
Tuesday - Thursday: 8AM – 5PM
Friday: 8AM – 3PM