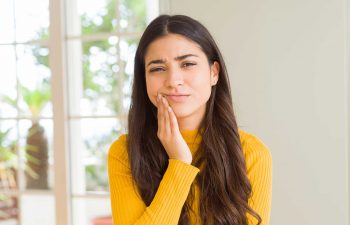 Removing a natural tooth is rarely a first line of treatment. As your trusted dentist in Davidson, we will do everything possible to save a compromised adult tooth. Unfortunately, while there are many options to restore a damaged or decayed tooth, not all teeth can be saved. If you have a tooth that is beyond repair or a threat to your oral health, we may recommend a tooth extraction.
It's Not a Traumatic Experience
Rest assured that we utilize the most preferred techniques in modern dentistry when removing teeth. We promise to keep you comfortable during the procedure, and we will carefully explain your post-operative instructions to accelerate your healing at home. Smiles by Seese offers sedation dentistry along with a number of soothing amenities to reduce your anxiety.
Reasons to Extract a Tooth
When it comes to removing a tooth, it is best to extract the tooth while leaving as much healthy bone and tissue intact. A tooth may need to be extracted due to the following reasons:
Severe decay
Advanced gum disease
Extensive damage
Orthodontic preparation
Baby tooth that won't fall out
Impacted wisdom tooth
Regardless of why you need to have a tooth removed, you can trust we will take care of you at every step. From scheduling your appointment at a convenient time to helping you finance your extraction. Most importantly, we also offer tooth replacement options if necessary. To avoid the detrimental setbacks of missing teeth, you'll need to consider a dental bridge, dental implant or denture after tooth removal – unless of course your extraction involved wisdom teeth.
Wisdom Teeth Removal
Wisdom teeth are the most common teeth to need removal. They are known for causing more harm than good. Due to lack of jaw space, these third molars often grow in sideways, partially erupt or get impacted below the gum line. This can create a host of dental issues, including jaw cysts, misalignment in adjacent teeth and a greater risk for disease and infection. To prevent these complications, wisdom teeth removal is often suggested. This simple oral surgery is typically recommended to patients who are in their late teens or early twenties, but it can be successfully performed at any age.
If you have severe tooth pain, a broken tooth or impacted wisdom teeth, we invite you to consider your options at Smiles by Seese. If tooth extraction is necessary, we promise a streamlined and patient-centered experience.
Posted on behalf of Smiles By Seese
610 Jetton St. Suite 250
Davidson, NC 28036
Phone: (704) 895-5095
Email: info@smilesbyseese.com
Monday (once/month): 8AM – 5PM
Tuesday - Thursday: 8AM – 5PM
Friday: 8AM – 3PM