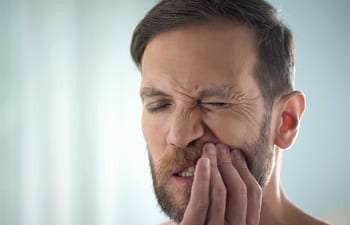 Dental pain can be quite disruptive. A toothache can cause you to miss work or school or avoid eating and drinking. Regardless of the severity of your tooth pain, patients should recognize it as a sign that their dental health is in jeopardy. Do your best to avoid going to the ER for dental-related emergencies that involve pain. A dentist is qualified to not only eliminate your discomfort, but also treat the underlying cause of your tooth pain so that your oral health is protected from future complications.
Tooth Pain
Tooth pain can occur for a variety of reasons. In most cases, the painful sensitivity is from pressure on the tooth nerves, which happens when decay, infection or trauma penetrates the inner canal of the tooth. At Smiles by Seese, we are fully qualified to provide an accurate diagnosis of your toothache and recommend the most effective, long-lasting solution. Our modern dental office serves patients with an expansive menu of services in general, restorative and cosmetic dentistry. Whether you need a root canal, filling or crown, you can trust our dentists to restore your smile comfort in the timely manner you deserve.
Treatment for Jaw Discomfort
Dental pain doesn't always involve your teeth. The joint and bones that help you use your teeth (jaws and TMJ) can also become painful. Your jaw muscles are some of the most frequently used muscles in your body, helping you speak and chew throughout the day. However, when these muscles are engaged repetitively, such as when a patient clenches or grinds their teeth, it can produce significant discomfort in the jaw. If you find that your jaw is chronically sore or pops when you try to eat, you may be suffering from signs of TMD, or temporomandibular joint disorder. Tension headaches, sensitive teeth and even facial tenderness are symptoms of jaw joint problems.
If you are struggling to find relief from your tooth pain or jaw pain, call Smiles by Seese sooner rather than later. We have helped countless patients regain a comfortable mouth in Davidson.
Posted on behalf of Smiles By Seese
610 Jetton St. Suite 250
Davidson, NC 28036
Phone: (704) 895-5095
Email: info@smilesbyseese.com
Monday (once/month): 8AM – 5PM
Tuesday - Thursday: 8AM – 5PM
Friday: 8AM – 3PM