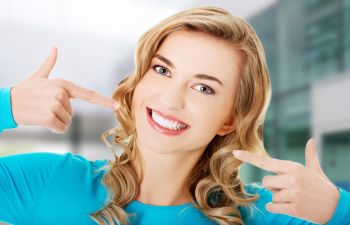 Having a white smile can turn heads. The brighter your teeth, the more you can look youthful and healthy. Unfortunately, time and other influences can make your pearly whites transform to a dull and even yellowish color. The foods and beverages you eat, along with the natural aging process can diminish the brightness of your teeth. To bring back your vibrant, white smile, consider professional teeth whitening at Smiles by Seese.
While there are plenty of over-the-counter remedies for teeth whitening, a professional teeth whitening from your dentist can ensure your treatment is safe and most effective. Store bought products may irritate your gums, cause tooth sensitivity and produce very temporary results.
Get Your White Smile Back With ZOOM!®
At Smiles by Seese, we use the most proven methods to get your smile back to its brilliant white. We offer The Zoom!® whitening system, which can lighten your teeth in just under an hour! Not only is this a convenient and timesaving solution, but it is also very effective.
The Zoom!® system uses a special gel that is gently applied to your teeth. Next, the Zoom!® light activates and accelerates the tooth bleaching process while you remain comfortable in the dental chair. During this whitening process, the gel's hydrogen peroxide breaks down and penetrates the enamel and dentin layer of the teeth. This can bleach the stained surfaces of the teeth without compromising the tooth structure. In one easy office visit, many of our patients get results that are up to eight shades whiter with our Zoom!® technology. To help you maintain your results, we provide custom-fit trays and whitening solution that allows you to continue to whiten your teeth at home.
You should have the confidence to flash your beautiful smile to the world! Give us a call at Smiles by Seese in Davidson and discover how Zoom!® can reverse your lackluster smile. For the best results, schedule your whitening treatment after your dental cleaning. This allows your whitening product to come directly in contact with your enamel without any extra stain particles getting in the way.
Posted on behalf of Smiles By Seese
610 Jetton St. Suite 250
Davidson, NC 28036
Phone: (704) 895-5095
Email: info@smilesbyseese.com
Monday (once/month): 8AM – 5PM
Tuesday - Thursday: 8AM – 5PM
Friday: 8AM – 3PM