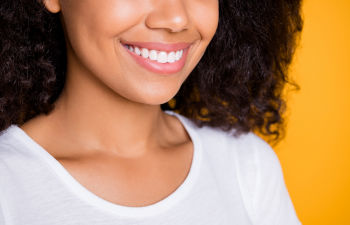 Your smile is one of the first features people notice, yet few of us are truly happy with the way it looks. With today's advancements in dental technology, there is every opportunity to gain the smile you have always dreamed of. With cosmetic dental services ranging from teeth whitening and dental boding to orthodontics and more, there is a procedure to suit everyone. However, if you want a full smile transformation without multiple procedures or a lengthy orthodontic process, dental veneers are your answer. Porcelain veneers are offered by most cosmetic dentists as a permanent, natural-looking solution that can instantly improve your smile in a significant way.
Veneers are wafer thin porcelain shells that are customized and bonded to the front surface of your natural teeth. Porcelain veneers are used to correct teeth that have the following imperfections:
Chipped or broken
Misaligned
Crooked
Gapped
Unevenly spaced
Too short
Discolored
Customized and Natural
Veneers are distinctly customized to your preferences and goals. Perhaps you are just getting a few veneers to restore your smile and match your existing teeth, or you might finally take the opportunity to attain your dream smile with veneers that are straight, white and beautifully shaped. Your dentist can ensure the final look is most natural.
Instant Results
Veneers do not require a series of appointments, which can be inconvenient and frustrating to endure. Instead, patients can achieve their brighter and more aligned smile in a single office visit.
Easy To Care For
Veneers are low maintenance. They do not require extra care beyond your normal brushing and flossing. They are made of durable material and designed to last. In fact, veneers are stain resistant so you can enjoy a permanently white smile.
What are your smile flaws that bother you every time you look in the mirror? Would an instant smile makeover with veneers help you smile more or improve your self-confidence? Schedule a no obligation consultation at Smiles by Seese to learn the endless benefits of investing in your smile.
Posted on behalf of Smiles By Seese
610 Jetton St. Suite 250
Davidson, NC 28036
Phone: (704) 895-5095
Email: info@smilesbyseese.com
Monday (once/month): 8AM – 5PM
Tuesday - Thursday: 8AM – 5PM
Friday: 8AM – 3PM