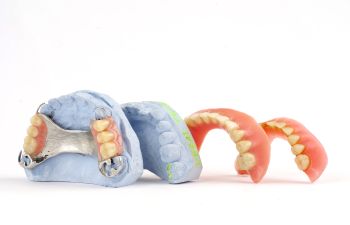 While it is never ideal to lose a full arch of natural teeth, it does happen. Fortunately, modern dentistry offers two basic solutions when patients need full mouth teeth replacement: traditional dentures and implant-supported dentures. While they may both look the same on the outside, these denture solutions are very different in the way they are anchored inside your mouth.
Traditional Dentures
Traditional dentures are dentures that are removable and adhere to the gums using denture adhesive cream. Many patients choose this option in an attempt to lower their upfront cost or avoid oral surgery. Some may not be candidates for implant dentistry due to health, smoking or bone loss. Modern materials and technology have improved the way traditional dentures look and feel. However, they certainly come with some potential drawbacks. They involve the hassle of using messy adhesive creams each day, and many patients find that their traditional dentures fall short in stability and comfort.
Implant Supported Dentures
If you have lost a full arch of teeth and want the most dependable solution in teeth replacement, an implant supported denture is ideal. Instead of adhesive cream, implant dentures are anchored into place using a series of dental implants. Each dental implant is composed of a small titanium post that is surgically fixed into the jawbone beneath the gum line. These posts serve as artificial tooth roots for your custom-made denture.
Having an arch of prosthetic teeth that are secured into your jawbone offers significant benefits towards your comfort, quality of life and convenience. Individuals that maintain an active lifestyle can appreciate the following benefits of choosing an implant supported denture:
No risk of dentures slipping, loosening or falling out
Maximum confidence when eating, speaking and laughing
Improved durability
No need for adhesive creams
No extra cleaning instructions or denture creams
Maintain facial shape and avoid bone loss in the jaw
No plastic covering the roof of your mouth
Closest replica to your natural teeth in function, feel and appearance
Ready to learn more about a teeth replacement solution that lasts a lifetime? Call Smiles by Seese. We proudly offer beautiful implant restorations including implant supported dentures to help you reclaim the smile you deserve after missing teeth.
Posted on behalf of Smiles By Seese
610 Jetton St. Suite 250
Davidson, NC 28036
Phone: (704) 895-5095
Email: info@smilesbyseese.com
Monday (once/month): 8AM – 5PM
Tuesday - Thursday: 8AM – 5PM
Friday: 8AM – 3PM