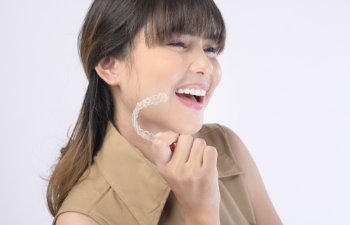 When it comes to orthodontic treatment Invisalign has become a popular alternative to traditional metal braces. While it is primarily admired for its clearly and removable design, Invisalign can also provide better comfort compared to fixed braces.
Instead of bulky brackets and sharp wires, your teeth are moved into place using a smooth (and clear) custom-fit aligner. However, that doesn't mean won't Invisalign take some getting used to. Just like any oral appliance that is suddenly introduced to your mouth, you should expect a period of adjustment. This includes the very first time you wear Invisalign as well as every couple of weeks when you change out your aligner set.
At Smiles by Seese, we want to help our Invisalign patients adjust to Invisalign as smoothly as possible. To this end, we recommend the following for the first several days after putting in a new aligner:
Start a New Set Before Bedtime
The first 12 hours of a new aligner are always the worse in terms of soreness and irritation. To make things easier, try to use the bulk of this initial time period while you sleep. Change out your new aligner set before bedtime.
Ask About Tools Reduce Gum Irritations
Each set of aligners fit a little different. Sometimes, an aligners may sit differently on your gums than the previous one. The edges of the aligners may even feel too sharp to your gums. After getting your dentist's permission, you may consider using an emery board (or nail file) to smooth down the edges or orthodontic wax. Some patients may simply benefit from over-the-counter pain medications during the first day of discomfort.
Consider Dry Mouth Remedies
While Invisalign is an orthodontic treatment that is highly convenient to your lifestyle, you may find that it also causes you to have dry mouth. A persistently dry mouth can make it uncomfortable to talk and chew, but it can also threaten your oral health. Ask your dentist for a dry mouth treatment. There are special rinses designed to boost saliva production and combat dry mouth.
Invisalign Still Trumps Braces in Comfort and Convenience
While no orthodontic treatment is completely pain-free and natural-feeling, Invisalign continues to rank the highest in terms of comfort and convenience for teens and adults. Compared to metal braces, the irritation, discomfort and "getting used to" is far shorter and less severe.
To learn more about the benefits of Invisalign, please contact Smiles by Seese in Davidson.
Posted on behalf of Smiles By Seese
610 Jetton St. Suite 250
Davidson, NC 28036
Phone: (704) 895-5095
Email: info@smilesbyseese.com
Monday (once/month): 8AM – 5PM
Tuesday - Thursday: 8AM – 5PM
Friday: 8AM – 3PM