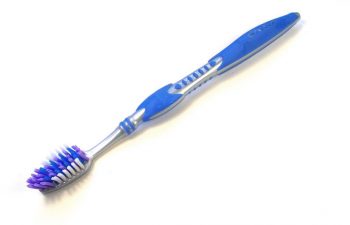 A habit is "a routine of behavior that is repeated regularly and tends to occur subconsciously." Brushing your teeth certainly involves some habits, as you've likely been doing the task alone since you were a small child. Unfortunately, not all habits are good ones. While you should definitely be brushing your teeth on a repeated basis, there may be some methods or techniques that need to change. In fact, if you are brushing the wrong way, you may be doing more harm than good.
When it comes to your brushing habits, are you:
Brushing Too Hard?

Brushing with aggressive force or too much pressure can damage your teeth and gums. You may experience teeth sensitivity from enamel erosion or gum recession if you are brushing too hard. Believe it or not, plaque is a sticky thin film that can be easily removed with gentle to moderate brush strokes. There's no need to take out your frustrations on your teeth or scrub them like would your bathroom floors!

Brushing Too Sloppy or Too Hastily?

If you are like most people, you are either brushing your teeth right before bed, when you are the most tired, or right before you head out the door, when you are most rushed. These timeframes make it easy to do the job halfway or stop short of the recommended duration. Your tooth brushing sessions should be at least two full minutes long. Set your timer and see how you measure up.

Brushing Too Soon?

There are certain times in which it is better to hold off on brushing your teeth. This is true after you've consumed a highly acidic food or drink. If you've just finished a glass of orange juice, it is better to wait an hour before you brush your teeth. If not, you'll cause an abrasive scrubbing action using the acids that are lingering on your pearly whites.

Brushing Too Infrequent

Do you regularly skip your brushing routine? You should be picking up your toothpaste and toothbrush twice a day. In the morning and at night are the two most common times to brush.
Beyond the above brushing techniques, there are some other rules to follow when it comes to your toothbrush habits. First, you need to be sure you are changing out your toothbrush every few months, or when the bristles are frayed and worn. Next, it is important to store your toothbrush properly. The last thing you want to do is attract bacteria on your toothbrush to be transferred to your mouth. Store it at least six feet away from the toilet and use an upright and open container.
How can you up your brushing routine? For more oral hygiene tips, contact Smiles by Seese. We consider it a privilege to help you care for your teeth and gums while you are away from our office.
Posted on behalf of Smiles By Seese
610 Jetton St. Suite 250
Davidson, NC 28036
Phone: (704) 895-5095
Email: info@smilesbyseese.com
Monday (once/month): 8AM – 5PM
Tuesday - Thursday: 8AM – 5PM
Friday: 8AM – 3PM