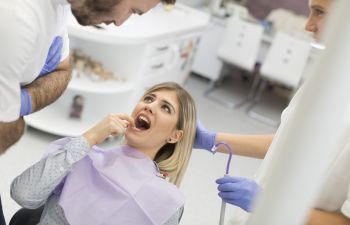 There is no question that smoking is harmful to your health. Many people understand how cigarettes impact the lungs, heart or even skin – but did you know that smoking can also cause damage to your mouth. If you have a smoking habit, take note of the following ways that your smile health can be threatened?
Tooth Discoloration
The most noticeable setback of smoking on your teeth is staining. While nicotine itself is colorless, it turns yellow when combined with oxygen. Since your teeth are porous, they can quickly absorb this yellow hue and cause your smile to look stained and dingy. Professional teeth whitening is a recommended solution, but smoking stains can be especially stubborn.
Excess Plaque and Tartar
Did you know that the chemicals in your cigarettes can impede your saliva production? Since we need saliva to clear away food debris and plaque, your smile becomes vulnerable to a host of dental health problems including cavities, gum disease and bad breath! In fact, smokers are six times more likely to develop periodontal disease than non-smokers.
Slow Healing
Smoking is a vasoconstrictor that interferes with the body's natural healing processes. This has a bigger impact on your mouth than you may assume. We need a strong blood flow to our gum tissues to facilitate healing after damage, such as those that occur from cuts, sores and infections. If you plan to get dental implants, you'll definitely need to kick your smoking habit first since the success of implant dentistry relies on proper healing.
Increased Risk of Oral Cancer
When it comes to smoking and oral cancer – the statistics don't lie. According to the Mouth Cancer Foundation, about 90% of people with mouth cancer are tobacco users. Overall, smokers are six times more likely than nonsmokers to develop oral cancer. Keep in mind that mouth cancer is fatal if not treated at an early stage.
Have you already put your smile in danger from smoking? At Smiles by Seese, we can help you repair the damage that has been done as well as help you establish more smile-healthy habits going forward. Contact our Davidson dentist today.
Posted on behalf of Smiles By Seese
610 Jetton St. Suite 250
Davidson, NC 28036
Phone: (704) 895-5095
Email: info@smilesbyseese.com
Monday (once/month): 8AM – 5PM
Tuesday - Thursday: 8AM – 5PM
Friday: 8AM – 3PM