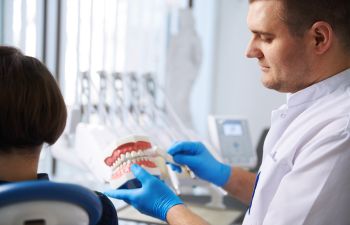 Losing a full arch of teeth is rarely planned or wanted, but it does happen. Fortunately, modern dentistry gives us some solid solutions when it comes to replacing a full mouth of teeth. While dentures are the time-tested choice to regain a complete smile, they can be anchored into your mouth in two different ways.
Traditional Denture Setbacks
Traditional dentures are less expensive and involve using adhesive cream to help your upper or lower denture stay in place along your gum line. These dentures are removable and must be cleaned properly each night. Unfortunately, many patients find that their traditional dentures fall short on stability, which converts to a lowered self-confidence, restricted eating habits and the inconvenient need for frequent adjustments and relines from a dentist.
Implant Supported Dentures
While the upfront cost and process in receiving implant supported dentures is a greater sacrifice, this type of denture offers priceless advantages in the short-term as well as the long-term. Implant-supported dentures involve surgically placing implants into your jaw in order to support a full arch denture. The denture can then be firmly anchored into your jaw bone, just like your natural teeth used to be. Not surprisingly, a number of valued benefits can result from this unrivaled and "life-like" stability, including the following:
No denture slipping = ability to laugh, speak and eat with confidence
No messy adhesive creams = easy maintenance
No dietary restrictions = freedom to eat foods you love, as well as fiber-rich fruits and vegetable your body needs for long-term health
No bone loss = avoid premature facial aging since jaw bone is properly stimulated
While not every traditional denture wearer encounters problems, you can certainly avoid the risk by investing in implant-retained dentures. Not only do implant dentures look natural, but they feel and function like real teeth too. This can bring important advantages to your quality of life as well as your nutritional health as you age.
To learn more about securing your ill-fitting dentures to a set of dental implants, contact Smiles by Seese. We understand the devastation of losing your natural teeth, but we are confident we can provide a solution that is the "next best thing" to your original smile!
Posted on behalf of Smiles By Seese
610 Jetton St. Suite 250
Davidson, NC 28036
Phone: (704) 895-5095
Email: info@smilesbyseese.com
Monday (once/month): 8AM – 5PM
Tuesday - Thursday: 8AM – 5PM
Friday: 8AM – 3PM