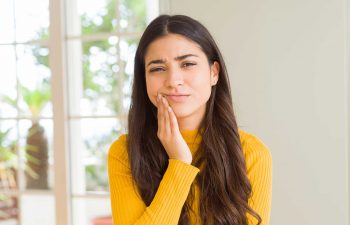 When healthy, your teeth are incredibly strong. However, it is not always possible to protect your teeth from damage. Patients of all ages are vulnerable to sudden tooth damage, which commonly presents itself as a chipped or cracked tooth. Your dentist is equipped to offer multiple types of repair to a cracked tooth, depending on the severity and location of the fracture. Never assume your chipped tooth can be ignored if it is not visible or causing discomfort.
Repairs to Cracked or Broken Teeth
Whether you suffered a bad fall or bit down on something too hard, a tooth can crack or break under excessive pressures. While it can be an obvious threat to your smile appearance, a broken tooth can also compromise your dental health. When the outer protective layer (enamel) of a tooth is damaged, it becomes more vulnerable to infection, decay and other complications. Therefore, it is important to seek treatment sooner rather than later when you crack, chip or break a tooth.
Chipped teeth can be fixed in a variety of ways. At Smiles by Seese, we typically suggest tooth-colored bonding for minor tooth damage. This is a quick, easy and painless method of fixing small chips and cracks. However, substantial tooth fractures may warrant a root canal and/or dental crown. In severe cases where the tooth cannot be saved, we can also provide a dental implant. All of our damaged tooth repairs include long-lasting results that blend naturally within your smile.
If you or a member of your family has suffered from a chipped, cracked or broken tooth, call Smiles by Seese in Davidson. We offer flexible financing options, convenient scheduling opportunities and comfort amenities to reduce your stress.
Posted on behalf of Smiles By Seese
610 Jetton St. Suite 250
Davidson, NC 28036
Phone: (704) 895-5095
Email: info@smilesbyseese.com
Monday (once/month): 8AM – 5PM
Tuesday - Thursday: 8AM – 5PM
Friday: 8AM – 3PM