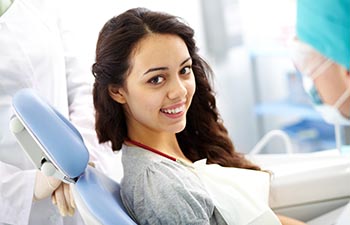 All too often we hear women question whether the dental visits are safe during pregnancy. Not only is it safe, but it can also be critical towards the health of your unborn baby. There is a strong connection between your oral health and your overall health. Neglecting your oral health can not only impact your body, but it can also threaten your baby. Unfortunately, dental health can be more difficult to maintain during pregnancy, but the stakes are alarmingly high.
Blame the Hormones
It is hard to talk about pregnancy without discussing those surging hormones. While a sudden change in hormones during pregnancy can cause morning sickness, skin changes and mood swings, they can also contribute to issues and changes within your oral health. It is important to know that pregnancy in and of itself does not damage teeth. However, the hormones present during pregnancy can affect your body's response to plaque. In turn, this can make a mother-to-be more susceptible to gum disease and tooth decay.
The Demands of Pregnancy
Many pregnant women battle more than hormones when it comes to maintaining a healthy mouth. There are some common demands and side effects of pregnancy that can make it even more challenging to keep your teeth and gums in top condition. These include the following:
Morning sickness/vomiting (causes enamel erosion)
Cravings for sugary, high carb foods
Retching or gagging while brushing teeth
The Serious Risks to Your Baby
The biggest oral health risk for pregnant moms is gum disease. In fact, pregnancy gingivitis is very common due to the increase in hormones and other factors. Research proves there is a link between gum disease in pregnant women and premature or low birth weight infants. Babies who are born too soon are at risk for many serious health conditions including cerebral palsy and problems with eyesight and hearing. Estimates suggest that up to 18 out of every 100 premature births may be triggered by periodontal disease, which is a chronic infection of the gums.
Keeping a Healthy Mouth During Pregnancy
There is good news. Proper dental care can reduce the risk for gum disease and premature birth for expectant mothers. This includes diligent oral hygiene at home as well as routine dental visits. We know your schedule and the to-do list are overwhelming during pregnancy but don't cancel that dental appointment, as it could help you support a healthy, full-term baby. Call Smiles by Seese today to schedule your dental checkup. We promise to keep you comfortable and informed at every step of your visit.
Posted on behalf of Smiles By Seese
610 Jetton St. Suite 250
Davidson, NC 28036
Phone: (704) 895-5095
Email: info@smilesbyseese.com
Monday (once/month): 8AM – 5PM
Tuesday - Thursday: 8AM – 5PM
Friday: 8AM – 3PM