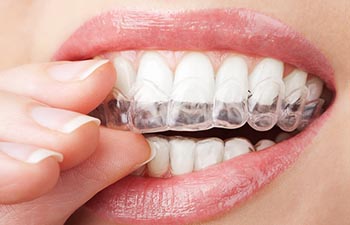 It is the season of giving. As most everyone can agree, the best gifts are the ones that keep on giving. When it comes to your smile, this can include the gift of straight teeth. If you are an adult with crooked, gapped or overlapping teeth, consider adding orthodontics to your wish list this year. Don't worry; it doesn't have to include bulky metal braces. Adults across the nation are loving Invisalign, a clear aligner therapy that straightens teeth without disrupting your lifestyle.
Why Straight Teeth Matter
Straight and well-aligned teeth undoubtedly make a more attractive smile. But aesthetics isn't the only reason to gift yourself with orthodontics this year. Straight teeth offer remarkable benefits for your oral health and well-being. When teeth are aligned properly, they are easier to keep clean. This helps prevent plaque buildup and food debris that can cause decay, gum disease and teeth stains. In addition, you can escape jaw pain or TMJ issues when your bite is better balanced. Many patients even find that their chewing and speech abilities greatly improve after their teeth have been corrected with orthodontics.
Why Adults Love Invisalign
Invisalign is a revolutionary treatment option in modern orthodontics. Adults prefer this clear aligner therapy because it can be just as effective as metal braces but without the embarrassment, discomfort and inconvenience included. Invisalign involves wearing a set of clear plastic aligners that are custom-fit for your unique smile. These highly discreet aligners are changed out every two weeks until your teeth move into the final position.
Since Invisalign aligners are removable, adults can enjoy the foods they love and avoid challenges in keeping their teeth and gums clean during treatment. Most importantly, Invisalign can be worn without others noticing so you can carry out your lifestyle with minimal to no disruption. In fact, you won't even be asked to come into the dental office very often.
Add Invisalign to Your Wish List
Are you ready to give yourself the gift of a straighter smile? Call now to schedule your consultation with a trusted Invisalign provider at Smiles by Seese. Straight teeth can make you look more attractive and younger, but they can also boost your dental health at any stage of life.
Posted on behalf of Smiles By Seese
610 Jetton St. Suite 250
Davidson, NC 28036
Phone: (704) 895-5095
Email: info@smilesbyseese.com
Monday (once/month): 8AM – 5PM
Tuesday - Thursday: 8AM – 5PM
Friday: 8AM – 3PM