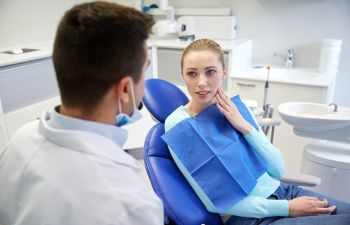 When your dentist tells you that you need a root canal, there's a sense of urgency involved. Root canal therapy is an endodontic treatment that removes an infection or damaged pulp from the inner portion of a tooth. There are many reasons why putting off a root canal is a bad idea, including the following:
Your Pain Will Worsen
Most patients are in significant pain when they are told they need a root canal. This is because the inner tooth chambers have been compromised, where your tooth nerves reside. Once bacteria invades these nerves, the resulting sensitivity and pain can be extreme. Root canal therapy is often the only way to get you out of this state of discomfort. Putting it off could lead to more consistent or more severe pain.
You May Lose Your Tooth
Root canal therapy is designed to save a tooth that would otherwise die or need to be extracted. While you may think it is no big deal to have a back tooth removed, you'll soon encounter the consequences of a missing tooth – which may include shifting adjacent teeth, bone loss and other hidden drawbacks. Therefore, a dental implant will be recommended, a procedure that is far more complicated and costly than root canal therapy.
Why Are You Procrastinating? We Can Help
Whether it is fear of the procedure or the cost of a root canal, we can address the obstacles that have kept you from scheduling this needed treatment. If you are apprehensive about the potential pain, there's no need to worry. Root canal therapy is not painful, despite its poor reputation. With modern anesthetics and sedation dentistry, your procedure is no more uncomfortable than getting a dental filling.
If your budget is standing in the way of saving your tooth, you'll be happy to know that Smiles by Seese accepts insurance coverage, and we also offer flexible financing plans for patients who are not covered. Time is of the essence when it comes to root canal therapy. For the sake of your smile, don't procrastinate!
Posted on behalf of Smiles By Seese
610 Jetton St. Suite 250
Davidson, NC 28036
Phone: (704) 895-5095
Email: info@smilesbyseese.com
Monday (once/month): 8AM – 5PM
Tuesday - Thursday: 8AM – 5PM
Friday: 8AM – 3PM