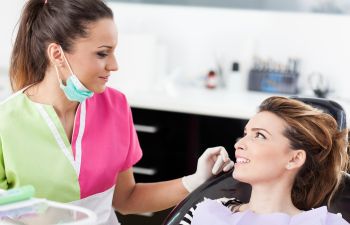 If you are an expectant mother, you may be well aware of terms like preeclampsia, gestational diabetes and anemia. These are conditions that can pose a serious threat to yourself and your unborn child during pregnancy. However, you should also put gum disease on your radar during these special nine months. In fact, gum disease is so common for expectant moms that we call it "pregnancy gingivitis." Though pregnancy gingivitis is not rare, it is still very serious if not addressed.
When gum disease is allowed to progress, it affects areas of your body beyond your mouth. Advanced gum disease has been linked to stroke, heart disease and diabetes. When it comes to pregnant women, the risks just as serious. An untreated infection in the gums can lead to the following:
Low birth weight baby
Pre-term labor
Miscarriage
What Makes Gum Disease So Prevalent in Pregnancy?
Gum disease develops when bacteria and plaque are allowed to build up along the gum line. This irritates the gums and leads to an infection that can destroy the gum tissues as well as the underlying bone that supports your teeth. During pregnancy, there is a drastic fluctuation in hormones. Hormones affect countless areas of the body, including your skin, hair, stomach and more. They also impact your immune system as well as your oral environment. A rise in hormones often causes swelling and irritation of the gums. Combine this with a lowered immune system during pregnancy, and the gums become especially vulnerable to infection.
There are other factors during pregnancy that can make gum disease a bigger threat. Many women suffer from nausea or morning sickness. This may cause them to avoid brushing their teeth as often or to snack on foods that are rich in sugar and carbohydrates. This fuels the presence of plaque, acids and bacteria – a deadly combo for gum disease.
When the mouth houses an infection of any kind, it can enter your own blood stream as well as the blood supply that goes to your unborn baby. In addition, hormones are affected or disrupted by infection, which means that your uterus may contract when it isn't really ready.
What Can You Do?
First and foremost, don't miss your routine dental checkup during pregnancy. Now more than ever, your mouth needs a professional cleaning. Your dentist also needs the chance to detect problems such as gum disease at its earliest, most treatable stages. Pregnancy gingivitis is absolutely reversible with the right care. And as much as you want to avoid it during episodes of morning sickness, try to stick to your oral hygiene routine of brushing and flossing. Make every effort to keep a clean mouth so that your baby is not seriously impacted by the presence of gum disease.
At Smiles by Seese, we proudly treat pregnant moms with comfortable, full-service dentistry. We recognize the importance of top quality dental care during these nine months, and we promise to make your visits as painless and stress-free as possible. We know you've got many extra appointments on your calendar in the coming months, but we encourage you to make time for your dentist too!
Posted on behalf of Smiles By Seese
610 Jetton St. Suite 250
Davidson, NC 28036
Phone: (704) 895-5095
Email: info@smilesbyseese.com
Monday (once/month): 8AM – 5PM
Tuesday - Thursday: 8AM – 5PM
Friday: 8AM – 3PM