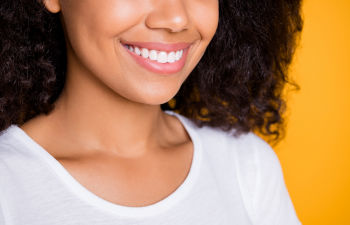 Teeth whitening continues to top the charts of most popular treatments in cosmetic dentistry. Not only is teeth whitening easy and painless, but brightening your smile can also take years off your appearance. Teeth whitening can address discoloration caused by a wide range of factors, not just consuming staining foods and drinks. The natural aging process, tobacco use and certain medications can also cause a dulled or yellow smile that can be reversed with the teeth whitening. But not all teeth whitening is created equal.
Teeth whitening products that you can buy at your local pharmacy or drugstore can certainly produce results, but a whitening treatment from your dentist is far superior.
The Value of Having Your Teeth Whitened by A Professional
When it comes to teeth whitening, patients have the option of choosing between countless over-the-counter products or visiting their dentist for professional grade whitening treatment. In general, store-bought whitening systems may offer only temporary results and are not safely guided by a dental professional.
At Smiles by Seese, we use whitening products that are safer and more effective than over-the-counter alternatives. Our professional whitening treatments are also comfortable and reduce your risk for tooth sensitivity or gum irritation. You'll also have a dentist who is overseeing the whitening process, examining your specific tooth stains as well as making sure your oral health is in check.
Extending Your Results
Teeth whitening from a professional is most easily accomplished in the office. Systems such as ZOOM! Whitening can lighten your smile by several shades in just one hour. At Smiles by Seese, we recommend touching up your whitening treatment every 3 to 4 months. Our patients will receive a set of home trays to wear to use about an hour a day (for 1 to 3 days) to boost your white smile. This allows you to extend your whitening treatment for several months or years!
Regain the youthful and confident smile you deserve with a simple investment in professional teeth whitening. If you have further questions about ZOOM! Teeth Whitening products we offer, please give us a call.
Posted on behalf of Smiles By Seese
610 Jetton St. Suite 250
Davidson, NC 28036
Phone: (704) 895-5095
Email: info@smilesbyseese.com
Monday (once/month): 8AM – 5PM
Tuesday - Thursday: 8AM – 5PM
Friday: 8AM – 3PM