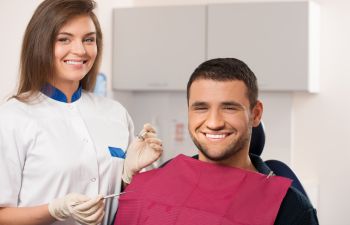 When it comes to dental hygiene, you can't believe everything you've been told or even what you read on the Internet. In fact, there are several myths regarding dental care that you need to be aware of, including the following:
If your gums are bleeding, stop flossing.
The most common cause of bleeding gums is gingivitis, or early-stage gum disease. This occurs because bacteria has built up within the gum line and irritated these soft tissues. The truth is, your gums are likely bleeding because you haven't been flossing (or brushing) enough – so don't stop!
A sensitive tooth is a sure sign of cavities.
The cause of tooth sensitivity varies widely. While tooth decay can certainly cause pain and sensitivity, there are also other reasons your teeth may hurt when exposed to extreme temperatures. You should consider issues like gum recession, periodontal disease, a tooth fracture or weakened enamel due to highly acidic foods/drinks.
The more sugar you eat, the higher risk for cavities.
Not necessarily. While this can be a truthful statement, the more determining factor for decay is how long the sugar is left on your teeth rather than the amount of sugar consumed. Oral bacteria feed on sugars and produce harmful acids that wear down your teeth. The longer you let sugars linger on your teeth before brushing or rinsing, the more time you give bacteria to complete the harmful process.
Bleaching can weaken teeth.
Teeth whitening (or bleaching) is a popular cosmetic dental treatment. Contrary to what some believe, whitening does not affect the health, integrity or strength of teeth. Bleaching simply removes the pigmentation on the outer tooth structure to alter its color. Sensitivity that patients experience after professional whitening is typically mild and temporary, but does not indicate damage to your teeth.
Applying aspirin directly to a toothache is a good remedy.
Do not follow this home remedy! Aspirin only works to relieve pain when it enters the bloodstream. If applied directly to the tooth, it can cause an acid burn and lead to worsening pain.
At Smiles by Seese, we want to set the record straight when it comes to caring for your smile. If you want to the confirm the validity of a certain dental hygiene rule, ask us first. A dentist is your best source of truth when it comes to your oral health!
Posted on behalf of Smiles By Seese
610 Jetton St. Suite 250
Davidson, NC 28036
Phone: (704) 895-5095
Email: info@smilesbyseese.com
Monday (once/month): 8AM – 5PM
Tuesday - Thursday: 8AM – 5PM
Friday: 8AM – 3PM