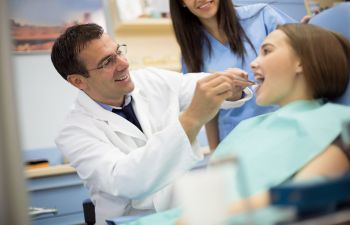 Today's dental crowns are remarkably strong and resilient. However, they are not invincible and will not last forever. The average lifespan of a dental crown spans between 5 and 15 years. Once your crown is showing signs of wear or causing discomfort, it will be necessary to replace it. A crown can fail much sooner than its intended lifespan when it is not cared for properly. Using your teeth to open packages or grinding your teeth during the night can cause your crown to crack, loosen or fall out. Lastly, certain oral health concerns can threaten the condition of your crown, such as gum disease and decay.
Repairing or replacing your dental crown may not be exciting news, but neglecting to do so can lead to more serious consequences and more expensive dental treatments down the road.
Here are 5 warning signs that yourdental crown needs replacement:
A Change in Your Bite
If your crown once fit comfortably but now your bite feels uneven or strange, you may need a new crown or a simple occlusal adjustment in some cases.
Pain or Discomfort
If you have pain in or around the crowned tooth, this is an indication that the crown is no longer serving its purpose of protecting the tooth. Pain can point to underlying decay or infection as well as a fractured crown.
Old or Outdated Crown
Your crown may simply be too old to do its job. Normal wear and tear on a crown can happen gradually. That's why it is important to let your dentist evaluate the condition of your crown each year. Habits such as bruxism can shorten the lifespan of a crown, so a custom nightguard may be necessary. You may also have a crown made of metal or other materials that you no longer want in your mouth. In such cases, a crown replacement is recommended.
Receding Gums
If you notice that your gums around the restored tooth are shrinking or pulling away from the tooth's root, you may be suffering from gum disease. Gum disease needs to be treated and reversed immediately to save your crown as well as your overall smile.
Yellow or Discolored Crown
Although modern dental crowns don't stain or discolor like natural teeth, they can lose their brilliancy over time. Crowns won't whiten like real teeth either. Therefore, some patients undergo teeth whitening to brighten their smile and find that their dental crowns suddenly look dull or yellow in comparison to their surrounding teeth. Replacing the crown with a lighter shade restoration can be a solution.
If you are concerned that your old or damaged dental crown needs replacement, call Smiles by Seese. We proudly offer durable and natural-looking dental crowns to improve your smile!
Posted on behalf of Smiles By Seese
610 Jetton St. Suite 250
Davidson, NC 28036
Phone: (704) 895-5095
Email: info@smilesbyseese.com
Monday (once/month): 8AM – 5PM
Tuesday - Thursday: 8AM – 5PM
Friday: 8AM – 3PM