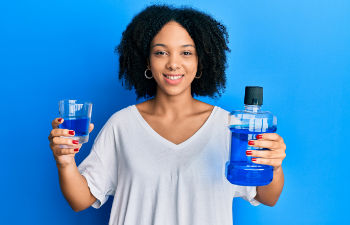 When it comes to taking care of your teeth, brushing and flossing are the two main components of at-home dental care that should never be ignored. Yet, walking down the dental care aisle at your local drug store may make you question whether you should be adding something else to your routine. There are many brands, types, and flavors of mouthwash lining the shelves, all claiming to fight cavities and promote oral health. So, is mouthwash necessary?
The quick answer is, no. However, that's not a definite answer for everyone.
If you are an avid tooth brusher who brushes your teeth at least twice a day and you floss every single day, then mouthwash is not necessary. You are doing exactly what you should be doing to keep your teeth and mouth healthy, so keep up the good work! However, if you would admit that your brushing and flossing are not done quite as routinely, keep reading.
Mouthwash is a tool that can be beneficial to many users. Because flossing is one of the most neglected personal hygiene habits, many people would benefit from adding mouthwash to their daily routine. Mouthwash with the American Dental Association's (ADA's) seal of approval is guaranteed to benefit the health of your mouth. This seal indicates that there are proven ingredients to help fight cavities and prevent gum disease. Antibacterial ingredients help to combat the bacteria that are naturally found inside the mouth. It is these bacteria that produce damaging acids that eat away at the tooth enamel (cavities) and infect the gums (gum disease). While mouthwash will not rinse plaque from the teeth, it will kill the bacteria that live inside dental plaque. This will help keep your teeth healthy between dental visits and professional cleanings.
Mouthwash was never meant to take the place of brushing and flossing, but it was developed to help protect the mouth. If you would admit to skipping out on flossing your teeth and occasionally forgetting to brush, then adding mouthwash to your oral hygiene routine can help prevent decay. At Smiles by Seese we can help you find the best mouthwash to meet your dental needs.
Posted on behalf of Smiles By Seese
610 Jetton St. Suite 250
Davidson, NC 28036
Phone: (704) 895-5095
Email: info@smilesbyseese.com
Monday (once/month): 8AM – 5PM
Tuesday - Thursday: 8AM – 5PM
Friday: 8AM – 3PM