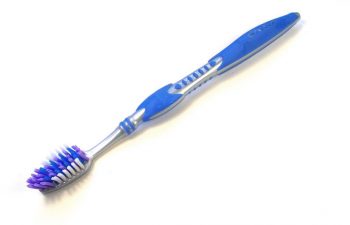 At the end of each dental checkup and cleaning your dentist or dental hygienist gives you a new toothbrush, but do you know why? Your toothbrush is a tool that was designed to clean your teeth and brush away food particles and plaque that develop on the surfaces of your teeth. After time, this tool becomes rather dirty and should be replaced. Are you asking yourself, "How old is my toothbrush anyway?" If you're not, you should be.
The American Dental Association recommends replacing your toothbrush every three months, with six months being the absolute longest any toothbrush should ever be used. Every six months is easy to remember if you visit your dentist on a regular basis because you will walk out the door with a new one in hand!
Bacteria occur naturally in the mouth and help to break down the small food particles that are left behind after eating. However, these bacteria quickly go from helpful to harmful causing plaque and tartar to build up on the teeth. The toothbrush was specifically designed to loosen and brush away plaque daily before it hardens into tartar. However, while the toothbrush is an extremely necessary tool for cleaning the teeth, it becomes very dirty over time. As it brushes away the bacteria from the teeth, much of those bacteria exit the mouth via your toothbrush. While rinsing your toothbrush under running water will wash some of the bacteria away, many will still linger and continue to grow. Yuck! Not to mention that if you are ever sick with a serious cold, virus, or strep throat – those germs will linger, and you can become sick again by using the same toothbrush. So replacing a toothbrush immediately after an illness is extremely important.
At Smiles by Seese, we are sincerely concerned with the health of your entire mouth – including the toothbrush that you use to keep it clean. Contact our dental practice today to schedule an appointment for your cleaning and checkup, and we will have a brand new toothbrush waiting on you!
Posted on behalf of Smiles By Seese
610 Jetton St. Suite 250
Davidson, NC 28036
Phone: (704) 895-5095
Email: info@smilesbyseese.com
Monday (once/month): 8AM – 5PM
Tuesday - Thursday: 8AM – 5PM
Friday: 8AM – 3PM