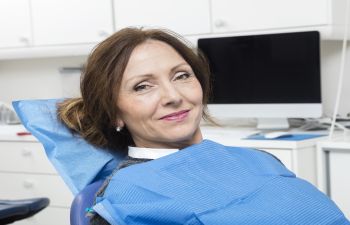 If you are suffering from the pain of an infected tooth, the discomfort may be quite unbearable. In fact, you may be so tempted to rid yourself of pain that you are considering extracting or removing the tooth altogether. While this can certainly eliminate your pain, the sequential drawbacks from a missing tooth are substantial. Patients who inquire about extracting an infected tooth may also have a fear of root canals, which is potentially the only procedure that can get you out of pain while also saving your natural tooth. Due to popular misconception, root canals are often dreaded or avoided. This is unfortunate, as root canal therapy is often the easiest and most effective solution for an infected tooth, and even more cost-effective in the long-run. If you are tempted to extract your painfully infected tooth, here's some facts you need to know that may change your mind quickly.
Drawbacks of Extracting a Tooth
When a tooth is lost or extracted, there are a host of dental problems that can occur in the following weeks, months and years. Regardless of where the tooth was located in your mouth, the adjacent teeth will eventually migrate and shift towards the open space. This can cause misalignment and areas in your mouth that are more difficult to keep clean. Patients with missing teeth may suffer from functional and aesthetic threats within their smile, and they are also at a much greater risk for bite problems, decay and gum disease. You may even encounter jawbone loss due to the fact that the underlying bone is less stimulated without all of your teeth. To combat these disruptive issues, an implant must be used to replace the missing tooth. You should know that getting a dental implant versus receiving root canal treatment involves a far more invasive and costly procedure.
Why Root Canals Work Better
If your dentist believes that a root canal can effectively remedy your infected tooth and save it from extraction, you should feel confident in this treatment plan. Root canals are a special, time-tested endodontic procedure that is used to eradicate the infected pulp from the inside of the tooth. This is where your tooth nerves reside, which explains why it is so painful. After the infection is removed and the inner canals are thoroughly sterilized, the tooth is then filled with a special material to seal it off from future infection. In many cases, the tooth will need extra support and strength going forward so a custom crown is placed on the treated tooth after the root canal procedure is complete.
Patients should know that root canals are not painful. In fact, with today's modern anesthetics and sedation dentistry, they are no more uncomfortable than getting a dental filling. Best of all, a root canal can immediately bring you out of pain. Finally, patients don't have to worry about future dental problems after root canal therapy like they would if they had chosen to extract the tooth.
When faced with the option of saving your natural tooth or removing it, it is always best to save it. Each tooth plays an important role in your smile health, function and aesthetics. You may not appreciate this until one of your teeth goes missing.
If you are avoiding or even dreading your upcoming root canal procedure, please let us know. At Smiles by Seese, we can carefully walk you through the procedure and offer extra ways to put your mind at ease. With our experience and expertise in dental care, there's no reason why you should suffer from a painful tooth longer than you have to.
Posted on behalf of Smiles By Seese
610 Jetton St. Suite 250
Davidson, NC 28036
Phone: (704) 895-5095
Email: info@smilesbyseese.com
Monday (once/month): 8AM – 5PM
Tuesday - Thursday: 8AM – 5PM
Friday: 8AM – 3PM