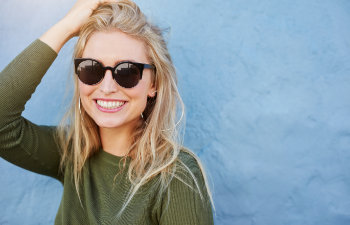 Never underestimate the power of a smile. Smiling can have several positive effects on overall wellness, both physical and mental. Here are a few ways that smiling can benefit your health:
Reduced Stress
Smiling can help to reduce stress by releasing endorphins, which are natural feel-good chemicals in the brain. These endorphins can help to lower stress hormones like cortisol and adrenaline, and promote a sense of calm and relaxation.
Improved Mood
Smiling can help to improve mood by boosting the production of neurotransmitters like serotonin and dopamine, which are associated with feelings of happiness and well-being.
Lowered Blood Pressure
Smiling and laughter have been shown to help lower blood pressure, which can reduce the risk of heart disease and other cardiovascular problems.
Strengthened Immune System
Smiling and laughter can also help to boost the immune system by increasing the production of antibodies and activating immune cells that help to fight off infections.
Pain Relief
Smiling and laughter have been shown to release natural painkillers called endorphins, which can help to reduce pain and improve overall comfort.
Improved Relationships
Smiling can help to improve relationships with others by signaling warmth and friendliness, and making others feel more comfortable and at ease.
Smiling is a simple yet powerful way to improve overall wellness and promote a healthier, happier life. At Smiles by Seese, we want to know what is holding you back from smiling more? Chances are, we can help.
Why Are You Hiding Your Smile?
There are many reasons why people may choose to hide their smile or feel self-conscious about it. At our Davidson dental clinic, we have a talented cosmetic dentist who can address the following common concerns:
Discolored or stained teeth: People may feel self-conscious about their smile if their teeth are discolored or stained, which can be caused by factors such as smoking, coffee or tea consumption, or poor dental hygiene.
Crooked teeth: Misaligned or crooked teeth can make people feel self-conscious about their smile and may even affect their speech or ability to eat certain foods.
Gaps or missing teeth: People may be embarrassed by gaps or missing teeth in their smile, which can make them feel self-conscious or affect their ability to speak or eat comfortably.
Uneven gums: Uneven gums can make teeth appear shorter or longer than they actually are, which can be a source of self-consciousness for some people.
Dental problems: People may feel self-conscious about their smile if they have dental problems such as cavities, gum disease, or other oral health issues.
Fear of judgment: Some people may hide their smile or feel self-conscious about it because they fear being judged or criticized by others.
The appearance of your smile matters. If you tend to avoid smiling or hide your teeth when you smile, we invite you to consider our menu of cosmetic dental services at Smiles by Seese. Dr. Seese proudly offers dental bonding, teeth whitening, porcelain veneers, Invisalign, dental implants and more.
Posted on behalf of Smiles By Seese
610 Jetton St. Suite 250
Davidson, NC 28036
Phone: (704) 895-5095
Email: info@smilesbyseese.com
Monday (once/month): 8AM – 5PM
Tuesday - Thursday: 8AM – 5PM
Friday: 8AM – 3PM