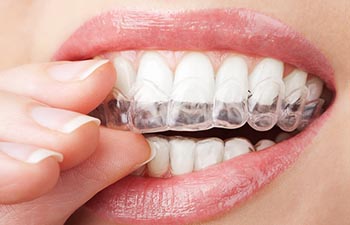 When it comes to clear orthodontics, Invisalign tops the list. Invisalign is a modern approach to orthodontic treatment. Instead of bulky metal brackets and wires, Invisalign relies on custom-fit clear aligners to gradually move your teeth into ideal position. While the discreet and barely visible design is certainly the most attractive benefit of using Invisalign, there is another less obvious yet highly important advantage. Compared to metal braces, Invisalign patients are much less likely to come out of treatment with dental health issues such as gum disease, cavities and tooth stains.
The Removable Aligner Advantage
One of the most unique features of Invisalign is its ability to be removed for eating, brushing and special events. While you need to wear your aligners 22 hours out of the day to retain their effectiveness, the freedom to take them out when you need it is a highlighted benefit. You may appreciate this feature in terms of convenience, to eat the foods you love or remove your aligners for public speaking, there is another significant advantage.
Removing your aligners to brush and floss allows you to keep your gums and teeth in top condition during orthodontic treatment. Other orthodontic systems, such as fixed braces, can't provide this advantage. Instead, patients have to work around pesky wires and bulky brackets to clean their teeth. This often results in puffy gums (gingivitis), tooth stains and decay, which are issues that must be addressed immediately and can compromise your pretty straight smile when your orthodontic treatment is complete. With Invisalign, your mouth can be cared for and cleaned just like you've always done.
Not sure you want to sacrifice or compromise your smile health for orthodontics? Consider Invisalign. We'd love to tell you about more benefits from this modern clear aligner therapy. Call Smiles by Seese today.
Posted on behalf of Smiles By Seese
610 Jetton St. Suite 250
Davidson, NC 28036
Phone: (704) 895-5095
Email: info@smilesbyseese.com
Monday (once/month): 8AM – 5PM
Tuesday - Thursday: 8AM – 5PM
Friday: 8AM – 3PM