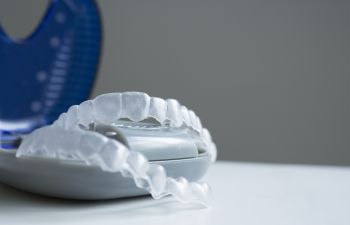 Did you know that you can straighten your smile without wearing metal braces? The highly discreet, convenient and comfortable orthodontic solution of Invisalign may seem too good to be true. However, Invisalign is one of the most preferred and proven options available when it comes to fixing crooked, gapped or crowded teeth.
It is easy to understand why adults and teens love Invisalign. The clear plastic aligners are removable for eating and brushing and barely visible to others. Patients can enjoy the foods they love as well as keep their teeth and gums cleaner during treatment. Invisalign is an ideal choice for adults in the public eye or socially conscious teens who dread wearing metal brackets and wires.
The remarkable benefits of Invisalign lead many patients to question how the process actually works. In others, how can something so comfortable and discreet move the teeth into proper alignment? The Invisalign process is quite simple with the shared goal of any orthodontic treatment option, which is to gently move and direct the teeth into ideal alignment over time. Unlike traditional braces, however, Invisalign uses a customized set of smooth, BPA-free thermoplastic aligners to accomplish the task.
The process begins with careful measurements of your mouth, which may include computerized 3D images and/or impressions of your bite. From there, sophisticated software creates a series of precisely designed aligners.
You'll wear each aligner set for approximately two weeks until you move on to the next set. The good news is that as long as you are doing your part in wearing the aligners up to 22 hours a day, you won't have to come into the office for frequent adjustments or checkups. Most Invisalign providers see their patients every 4-6 weeks.
You can expect each aligner set to fit snugly over your teeth. It may feel tight or "off" at first, but this is simply the aligners delivering gentle forces on your teeth to encourage them to move. It is a gradual movement, so don't worry about being in pain. Invisalign has been proven effective for a wide range of orthodontic concerns, including crossbites, overbites and underbites.
Is Invisalign right for you? Schedule your evaluation at Smiles by Seese. We are a trusted and experienced Invisalign provider who welcomes the opportunity to straighten your smile with minimal sacrifice to your lifestyle!
Posted on behalf of Smiles By Seese
610 Jetton St. Suite 250
Davidson, NC 28036
Phone: (704) 895-5095
Email: info@smilesbyseese.com
Monday (once/month): 8AM – 5PM
Tuesday - Thursday: 8AM – 5PM
Friday: 8AM – 3PM