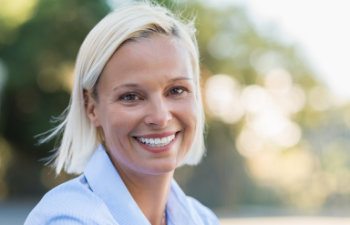 A beautiful smile can make a world of difference in how we feel and interact with others. Cosmetic dentistry offers various methods to enhance and restore the natural beauty of your teeth. At Smiles by Seese, we believe in providing personalized and effective solutions to our patients in Davidson. One such method that has become increasingly popular is dental bonding. In this blog, we will explore how dental bonding can transform your smile.
What is Dental Bonding?
Dental bonding is a procedure where a tooth-colored resin material is applied to the tooth and hardened with a special light, bonding the material to the tooth. This method is often used to improve the appearance of discolored or chipped teeth or to make teeth look longer or change their shape.
How Can Dental Bonding Be Used in Cosmetic Dentistry?
While you may know composite resin as a material used to fill a cavity or area of decay, it can also be used to enhance your dental aesthetics.
Fixing Chipped or Cracked Teeth
Minor chips and cracks can significantly affect the aesthetics of your smile. Dental bonding offers a simple and effective solution to restore the natural appearance of the tooth without extensive treatment.
Closing Gaps Between Teeth
For those bothered by small gaps between their teeth, dental bonding can be an excellent solution. By applying bonding material to the sides of the teeth, we can subtly close gaps, creating a more uniform appearance.
Whitening Discolored Teeth
Sometimes, traditional whitening methods may not be effective on certain stains. Dental bonding can cover these discolorations, giving you a bright and radiant smile.
Reshaping Teeth
If you have irregularly shaped teeth, dental bonding can be used to modify their shape, aligning them more harmoniously with neighboring teeth.
Protecting Exposed Roots
Receding gums can expose tooth roots, leading to sensitivity. Dental bonding can be applied to the exposed root, protecting it and reducing discomfort.
Benefits of Dental Bonding
Dental bonding is a win-win for both patient and dentist. Here are some valued advantages of this procedure when it comes to cosmetic dentistry:
Versatility: It can be used to correct various cosmetic concerns.
Cost-Effective: Compared to other cosmetic treatments, dental bonding is often more affordable.
Minimally Invasive: Generally, no anesthesia is needed, and little to no tooth enamel is removed.
Quick Results: Most dental bonding procedures can be completed in a single visit.
Is Dental Bonding Right for You?
At Smiles by Seese, we emphasize a personalized approach. During your consultation, we will evaluate your specific needs and help you determine if dental bonding is the right solution for you.
Dental bonding is a powerful tool in cosmetic dentistry that offers a quick and effective way to enhance your smile. With minimal discomfort and immediate results, it's no wonder that it's becoming a preferred choice for many.
If you are in the Davidson area and interested in exploring how dental bonding or other cosmetic treatments can enhance your smile, we invite you to schedule a consultation with us at Smiles by Seese. Our team of skilled professionals is dedicated to providing exceptional care and helping you achieve the smile you've always desired.
Posted on behalf of Smiles By Seese
610 Jetton St. Suite 250
Davidson, NC 28036
Phone: (704) 895-5095
Email: info@smilesbyseese.com
Monday (once/month): 8AM – 5PM
Tuesday - Thursday: 8AM – 5PM
Friday: 8AM – 3PM