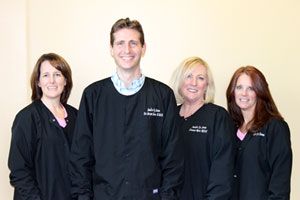 Pregnancy is a time in a woman's life that is full of anticipation and excitement. Whether it is the first new baby to join a family or a younger sibling, every pregnancy is an exciting time. Most women know the importance of making prenatal appointments with their OB/GYN a priority, but surprisingly few women understand how important dental visits are throughout pregnancy. The mouth is the chief gateway to the entire body, providing a means for food and nourishment to enter into the body on a daily basis. This nourishment allows the body to function properly and to supply it with energy and life. The mouth is also home to millions of bacteria every single day, which leaves it vulnerable. During pregnancy especially, any oral health concern needs to receive prompt attention. Oral health issues that are left untreated cause significant risk to a pregnant woman and the health of her growing baby.
While nine months often sounds like "forever" to a pregnant woman, it truly is a very short span of time for life to be conceived, developed, and then brought into the world. During those few months, huge changes occur inside a woman's body. While weight gain and a growing abdomen are obvious, huge fluctuations of hormones are occurring that have an impact on every area: from skin, hair, swelling, nausea, and oral health. The same hormones that are responsible for the development of the placenta have a huge impact on the gum tissues within the mouth. These hormones react with the gums and often cause them to become red, swollen, tender, bleed easily, become easily irritated, and for the mouth to have a decreased immune response.
Because the mouth is full of bacteria and because the body is connected by a single blood supply, any infection inside the mouth can easily be carried to the uterus and affect a growing baby. Gum disease is an incredibly serious concern for pregnant women because it has been directly linked to the following:
Miscarriage
Preterm labor
Low birthweight babies
Hormone levels control when contractions begin. If hormone levels are thrown off by an infection in the mouth, dangerous outcomes can occur during pregnancy. At Smiles by Seese, we offer exceptional and safe dentistry services to pregnant patients. Please contact us for a thorough exam and cleaning to protect you and your baby.
Posted on behalf of Smiles By Seese
610 Jetton St. Suite 250
Davidson, NC 28036
Phone: (704) 895-5095
Email: info@smilesbyseese.com
Monday (once/month): 8AM – 5PM
Tuesday - Thursday: 8AM – 5PM
Friday: 8AM – 3PM