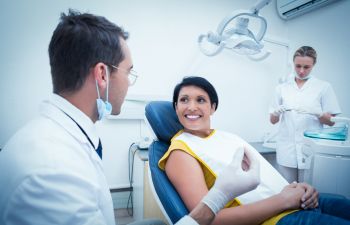 It is no surprise that smoking cigarettes carry many health warnings. If you light up every day, you are at risk for lung cancer, heart disease, emphysema and other serious health problems. However, did you know that your smoking habit can also sabotage the way you replace missing teeth?
Dental Implants are the gold standard in replacing a missing tooth. Implants carry the ability to replicate a natural tooth in function, feel and appearance better than any other option. One of the primary reasons they can do this is because they are surgically implanted into your jawbone to provide a secure foundation for your prosthetic tooth or teeth. However, a dental implant must have enough jaw structure to retain its stability and they require a very important healing process to allow the implant to fuse to the underlying jawbone (osseointegration).
So what is the hang-up with smoking and dental implants? First, smoking can drastically compromise your immune system as well as your body's ability to heal. This poses a significant risk in terms of your dental implant placement. Nicotine reduces proper blood flow to the soft tissues of your mouth, which slows down the healing process and lowers your immune system.
Smoking also fosters the growth of harmful oral bacteria. This oral environment is not ideal for someone who has just received dental implants. In fact, it can cause your implants to fail altogether. A dental implant that does not heal properly has a greater chance of failure down the road. Studies show that smokers suffer an implant failure rate that's twice as high as non-smokers!
If you are a smoker and need dental implants, you can still qualify for this remarkable solution in restorative dentistry. They continue to carry an overall long-term survival rate at over 90 percent for both smokers and non-smokers. However, as a patient, you'll need to stop smoking for a certain period of time before and after your dental implant procedure. This is typically one week prior and two weeks after implant placement. Keep in mind, however, that if you return to the habit afterward, you are still at risk for gum disease. Untreated gum disease can deteriorate your underlying jawbone and cause your implants to lose stability.
To learn if you are a candidate for dental implants as a smoker, please consult with our experienced implants dentist. We offer implant-retained dentures, implant restorations and much more.
Posted on behalf of Smiles By Seese
610 Jetton St. Suite 250
Davidson, NC 28036
Phone: (704) 895-5095
Email: info@smilesbyseese.com
Monday (once/month): 8AM – 5PM
Tuesday - Thursday: 8AM – 5PM
Friday: 8AM – 3PM