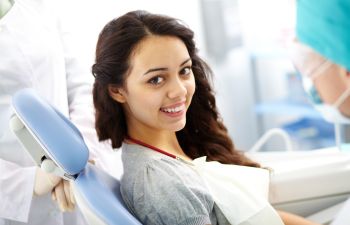 A healthy and beautiful smile does not "just happen," yet that is how most people treat their oral health. Your teeth are living features inside your mouth that require active effort to keep them healthy for a lifetime. Flossing daily, brushing your teeth at least twice a day, and visiting your dentist regularly for cleanings and exams are vital aspects of oral health. Yet, because most people neglect flossing and busy schedules often prevent people from visiting the dentist twice a year, fluoride treatments are available to protect your teeth and your child's teeth throughout the year.
Fluoride treatments have been used by dentists for decades as a means to help protect against the development of cavities between dental visits. Fluoride is well known for its ability to strengthen tooth enamel and make it more resistant to cavities. Every day, the teeth are under constant assault from acid-producing bacteria that create oral plaque on the teeth. While flossing and brushing are effective at removing oral plaque, some children and adults are more prone to developing cavities. Fluoride treatments are frequently used on children's teeth because of the "softness" of immature teeth. Permanent teeth do not full strength until a few months after erupting inside the mouth, thus they are more vulnerable to cavities. Children who develop cavities and oral health concerns are more susceptible to oral health issues that will follow them into adulthood. Many adults can also benefit from fluoride treatments. Adults who do not floss, who suffer from gingivitis, or who are more genetically predisposed to cavities can protect their permanent teeth through fluoride treatments.
If any of the following apply to you or your child, fluoride treatments are beneficial:
Well water is your main source of drinking water
Improper oral hygiene
Irregular dental visits
Active orthodontic treatment
Poor diet
An eating disorder
Dry mouth
Acid reflux
Gum recession
Alcohol or drug use (including tobacco)
Undergoing chemotherapy or radiation therapy
Contact Smiles by Seese to learn how you can protect your smile. Fluoride treatments offer a barrier of protection against cavities!
Posted on behalf of Smiles By Seese
610 Jetton St. Suite 250
Davidson, NC 28036
Phone: (704) 895-5095
Email: info@smilesbyseese.com
Monday (once/month): 8AM – 5PM
Tuesday - Thursday: 8AM – 5PM
Friday: 8AM – 3PM