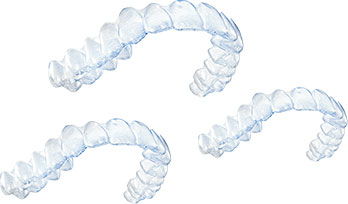 Gone are the days when you have to endure years in metal braces to attain a straighter smile. With today's modern orthodontics, teens and adults can opt for a more discreet, comfortable and convenient solution. Invisalign is a leader in clear aligner therapy, as it eliminates the major drawbacks of bulky metal brackets while delivering effective and often faster outcomes.
Still, just like any orthodontic appliance, Invisalign is an investment. Therefore, we are happy to answer these frequently asked questions to help you understand the process and feel more informed about your decision:
How does Invisalign work?

Invisalign relies on a series of clear plastic aligners that are custom-fabricated to your unique smile. Each set of aligners will be changed out approximately every 2-3 weeks until your teeth move into final position.

What are the top benefits of Invisalign?

The most valued and most obvious advantage of Invisalign therapy is its clear, virtually invisible design. Next, the ability to remove the aligners is a welcome benefit for teens and adults alike. Not only can you enjoy the foods you love, but you can keep your teeth and gums cleaner during treatment without the obstacle of brackets and bands to brush around. Finally, the aligners are more comfortable. There is no painful tightening or adjustment appointments, and the smooth aligners simply feel better on the lips and cheeks. Invisalign is a discreet, comfortable and stress-free way to attain a straighter smile.

What are the aligners made of?

Invisalign aligners are custom-crafted using a clear BPA-free thermoplastic material – which is a smooth, comfortable and safe material. The aligners feel and look similar to whitening trays, which means they are molded to every crevice and groove of your smile for a snug and confident fit.

How do the aligners straighten teeth?

The Invisalign System combines advanced 3D computer technology with the 100-year-old science of orthodontics. You'll be given multiple sets of aligners that are each designed to achieve a certain purpose in moving your teeth. The forces of the aligners are gentle but highly effective. It is a carefully mapped out process using precisely calculated measurements.

Will Invisalign fit my lifestyle?

Invisalign is known for its minimal sacrifice on patient lifestyle. With the ability to remove the aligners as needed (though they need to be worn 22 hours a day for ideal effectiveness), you can enjoy dietary freedom, the chance to go aligner-free for a special event or the ability to play an instrument in the band if you are a teen. Likewise, career-oriented adults love discreet design, especially if they are in sales or frequently in the public eye. It is rare to have to alter your day-to-day activities and lifestyle for Invisalign treatment.

How long will treatment take?

The length of treatment varies from patient to patient because it depends on the complexity of your need. However, the average Invisalign treatment is about 12 months. This is often faster than traditional braces.

How often do I have to visit my Invisalign dentist?

Unlike traditional braces that require frequent adjustment appointments every other week or more, your Invisalign treatment should only demand a simple checkup with our dentist every 4 to 6 weeks. This visit is simply to monitor your progress and ensure your aligners are still fitting comfortably and doing their job.

Am I a candidate for Invisalign?

A consultation with us at Smiles by Seese can determine if you qualify for Invisalign treatment. The good news is that Invisalign has been proven effective for a wide range of orthodontic concerns, ranging from crowding, large spacing and crooked teeth to underbites, overbites and crossbites.
Ready to learn more? Call Smiles by Seese today. We are a proud provider for Invisalign and Invisalign Teen, and we love the opportunity to help patients achieve the healthy and beautiful smile they want without the sacrifice of metal braces.
Posted on behalf of Smiles By Seese
610 Jetton St. Suite 250
Davidson, NC 28036
Phone: (704) 895-5095
Email: info@smilesbyseese.com
Monday (once/month): 8AM – 5PM
Tuesday - Thursday: 8AM – 5PM
Friday: 8AM – 3PM