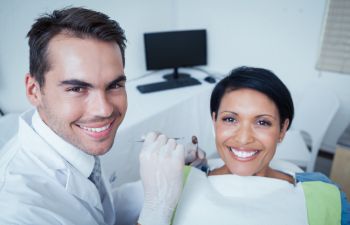 A dental crown is one of the most widely used treatments in restorative dentistry. Crowns can be used to strengthen and repair a tooth that is broken or one too weak to function on its own. Crowns can also serve as your replacement for a missing tooth when it is attached to a dental implant. In most cases, the crown essentially acts as a "cap" for a damaged tooth, providing a remarkable replica of your tooth structures on all sides. Modern dentists use ceramic and porcelain dental crowns as ideal materials for durability and appearance.
If you have ever received a crown or been told you need one, you probably already know that this restorative option is not cheap. Therefore, it makes good sense to know how to protect your dental crown once it is placed as well as what you can do to extend its lifespan. This ultimately gives you the best return on your dental crown investment.
Don't worry – your dental crown really doesn't require any special or additional care than the rest of your teeth. Dental crowns are not susceptible to decay or staining like your natural teeth. However, don't assume this gives you a free pass to care for your crown as if it were a real tooth. Decay can still affect the tooth underneath. Additionally, if bacteria and plague are allowed to build up along the gum line around the crown, you could be at risk for gum disease and eventually a loose-fitting crown. Any damage to the underlying tooth can disrupt the way your crown fits and cause you to need a replacement crown. Therefore, routine dental checkups and diligent oral hygiene practices are necessary for keeping your crown in good condition for years to come.
Finally, it is important to know that while your dental crown is incredibly strong, it can not withstand forces and pressures outside the realm of what your natural tooth can. In other words, if you grind your teeth repeatedly or use your crowned tooth to open packages, you may experience cracking or even breaking of your dental crown. Don't ignore it. Neglecting to repair a damaged crown could put your entire oral health at risk.
If you have more questions about how to care for your dental crown, please contact Smiles by Seese. We always welcome the opportunity to help patients protect and extend their dental investments.
Posted on behalf of Smiles By Seese
610 Jetton St. Suite 250
Davidson, NC 28036
Phone: (704) 895-5095
Email: info@smilesbyseese.com
Monday (once/month): 8AM – 5PM
Tuesday - Thursday: 8AM – 5PM
Friday: 8AM – 3PM