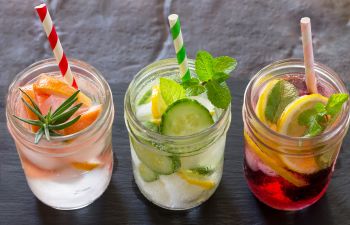 If you've made a resolution to drink more water this year, you are not alone. According to an Aquasauna survey, more than one-third of participants said that "drink more water" has been or will be one of their New Year's resolutions. While you may understand the benefits of drinking water towards your overall health, you should also know that those extra glasses of H20 may be boosting your dental health too.
How Does Water Improve Oral Health?
When you're thirsty, water may not the only beverage you have access to. However, not only will water hydrate your body the most efficiently, but your oral health will reap the benefits too. Your dentist prefers that you drink water to quench your thirst for the following reasons:
Alleviates Dry Mouth
A dry mouth is both uncomfortable and threatening to your oral health. We need saliva to help us swallow and speak as well as rinse away food particles and neutralize harmful acids on our teeth. Drinking water helps to stimulate saliva production while hydrating the sensitive tissues inside your mouth.
Lowers Cavity Risk
If you are not brushing your teeth after every meal or snack, the next best thing you can do to protect your smile is drink water. Sipping on water throughout the day can help wash away sugars and acids that your food and beverages leave behind. The less time these substances spend on your teeth, the less chance they have of causing decay.
Strengthens Teeth
Not all water will strengthen your teeth. However, if you choose tap water that contains fluoride, you can take advantage of its remarkable benefits towards your dental health. This naturally-occurring compound protects teeth against acids through a process known as remineralization, which replenishes essential minerals in your tooth enamel.
At Smiles by Seese, we want to do our part to help you smile more confidently in 2022. In doing so, we are happy to share the simple steps you can take to promote healthy teeth and gums. Contact our Davidson office today to learn more!
Posted on behalf of Smiles By Seese
610 Jetton St. Suite 250
Davidson, NC 28036
Phone: (704) 895-5095
Email: info@smilesbyseese.com
Monday (once/month): 8AM – 5PM
Tuesday - Thursday: 8AM – 5PM
Friday: 8AM – 3PM