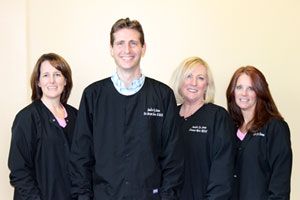 Do you experience tooth pain when you drink something hot or cold? Is brushing your teeth uncomfortable at times? You may be suffering from tooth sensitivity. Although it is common, tooth sensitivity should never be ignored. There is a reason your teeth are responding with pain, and addressing it properly can help you smile, eat and care for your teeth more comfortably.
Why Does Tooth Sensitivity Happen?
Exposed dentin is a primary cause of tooth sensitivity. Dentin is exposed when there is enamel loss or receding gums. Dentin is the grayish or yellowish tissue that is found just under your enamel, and it contains a large amount of tubes. These tubes run from the tooth's outer surface to the nerve, which is very sensitive when exposed to temperature changes. Therefore, eating specific foods (such as hot, cold or spicy) can be painful.
Common causes for tooth sensitivity include the following:
Brushing too hard
Cracked teeth
Grinding your teeth
Gum disease
Tooth bleaching
Age
Diagnosing and Treating Your Sensitive Teeth
How do you get back to being able to enjoy a bowl of ice cream without pain? Your first step should be to visit your dentist. Your dentist can check for exposed dentin and determine your cause. If you cavities are causing your sensitivity, you will need prompt treatment and a filling. If it is gum disease that is contributing to your problem, then a comprehensive cleaning needs to be done first, followed by careful monitoring from your dentist.
However, if the cause is from exposed dentin, there are many treatment options available to reduce sensitivity. In office treatments range from fluoride varnishes to rebuild your teeth to bonding agents that seal exposed dentin. For patients that want to treat their tooth sensitivity at home, they should use a soft bristle toothbrush and brush gently. Also, using toothpaste with potassium nitrate and a high concentration of fluoride can help.
Since tooth sensitivity can be a warning sign of a serious oral problem, always seek professional dental help rather than just enduring the discomfort. Dr. Brian Seese is an experienced dentist who can quickly diagnose your tooth sensitivity and recommend the most effective way to eliminate your pain.
Posted on behalf of Smiles By Seese
610 Jetton St. Suite 250
Davidson, NC 28036
Phone: (704) 895-5095
Email: info@smilesbyseese.com
Monday (once/month): 8AM – 5PM
Tuesday - Thursday: 8AM – 5PM
Friday: 8AM – 3PM