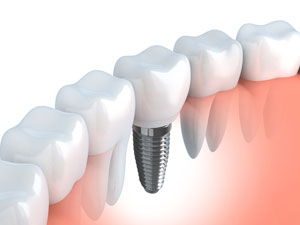 For years, dentures have been the go to option for people who want to replace their missing teeth. However, thanks to the amazing advancements in dentistry, there is another option available that provides a permanent, natural feeling, natural looking and ideal solution. Dental implants are considered to be the Gold Standard for tooth replacement, and Smiles by Seese is proud to offer this dental procedure to our patients here in Davidson, North Carolina.
Dental implants have revolutionized the ideal solution for replacement of missing teeth. Dental implants are designed to permanently restore a person's smile to promote a complete and beautiful smile. Surgically placed in the jawbone, dental implants are titanium roots that will hold a crown or bridge in place. Titanium is a metal with specific properties that allow it to fuse with human bone so that it eventually acts like a natural part of the body.
Implants offer a permanent solution for those with missing teeth. A single tooth can be replaced with a single implant, or an entire mouth can be fully restored with implant dentures. Dental implants have the unique capability of being virtually indistinguishable from natural teeth. While they are a more expensive tooth replacement option up front, the value of investing in dental implants is that they are a permanent solution that will very unlikely ever have to be replaced.
If you are interested in learning more about dental implants and how this option can restore the beauty and function to your smile, please contact Smiles by Seese today. We are currently accepting new patients, and we welcome the opportunity to serve you and your family with comprehensive and complete dentistry.
Posted on behalf of Smiles By Seese
610 Jetton St. Suite 250
Davidson, NC 28036
Phone: (704) 895-5095
Email: info@smilesbyseese.com
Monday (once/month): 8AM – 5PM
Tuesday - Thursday: 8AM – 5PM
Friday: 8AM – 4PM