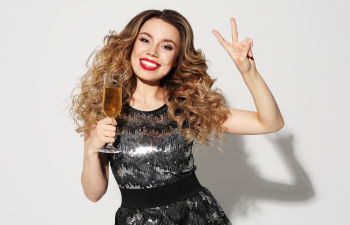 How did your teeth fare in 2018? For most of us, the past year was full of countless experiences, both good and bad – even when it comes to your teeth. While we hope the health of your smile is in good condition, you may be concerned with the shade of your teeth. If red wine, dark sodas, tomato sauce, coffee or smoking was part of your experiences in 2018, you may be ready to brighten your smile for the new year!
Teeth stains are a common occurrence. Fortunately, they are also an easy fix, especially when you have a dentist who offers ZOOM! Teeth Whitening. When the teeth yellow or become dull or dark due to the foods and drinks you consume, it is typically known as extrinsic tooth staining. These types of discoloration can often be reversed with the professional-grade products of ZOOM!. In fact, this innovative whitening system can lighten your teeth by several shades – in just one hour!
How Does It Work
ZOOM! teeth whitening relies on a powerful, light-activated whitening agent. We will simply apply the ZOOM! gel directly to your teeth. You can sit or lay back comfortably while our special LED light amplifies the stain release process. We may check your progress every 15 minutes and re-apply the gel as needed. Don't worry; you won't feel any discomfort and the entire treatment is finished in under an hour.
What to Expect At Home
Your whitening investment doesn't end when you leave the office. While all professional teeth whitening treatments are temporary, ZOOM! makes it easy to extend your results. You'll be giving a set of trays and whitening gel to use at home We recommend touching up your teeth every 3 to 4 months for just a day or two. In addition, you may want to take measures to avoid extrinsic staining, such as drinking your coffee through a straw, rinsing your mouth with water after consuming dark sauces or kicking your smoking habit for good!
A brighter smile can help you feel better about yourself as well as change the way others perceive you. Studies have shown that an attractive white smile can improve your success at work and even take years off your appearance. What are you waiting for? Erase your teeth stains from last year and start 2019 with a brighter, more confident smile.
Posted on behalf of Smiles By Seese
610 Jetton St. Suite 250
Davidson, NC 28036
Phone: (704) 895-5095
Email: info@smilesbyseese.com
Monday (once/month): 8AM – 5PM
Tuesday - Thursday: 8AM – 5PM
Friday: 8AM – 3PM