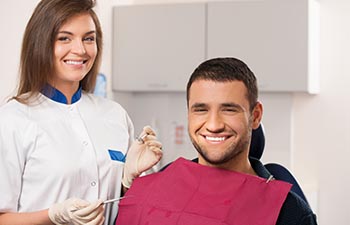 Do your teeth look dull, worn down or imperfect? You are not alone. Many adults are unhappy with the appearance of their smile as they age. Whether it is a dental flaw you were born with or gradual concerns that happened over time, cosmetic dental bonding may help. You'll be happy to know that dental bonding is one of the most affordable and simplest solutions in cosmetic dentistry. In fact, it can be done in a short office visit without sedation or downtime.
What is Cosmetic Dental Bonding?
Cosmetic bonding is a dental treatment that uses composite resin to repair, restore and enhance your teeth. It is the same tooth-colored material that can be used to fix a cavity, but it is often used cosmetically to reshape and repair defects in the enamel of the teeth.
Composite resin is a soft, plastic-based material that is applied in layers to the affected tooth. It can be sculpted, shaded and shaped to create a natural and beautiful smile. After the composite is placed, a special curing light is used to bond the material in place and make it as durable as your natural tooth enamel. It is an easy and painless procedure with dramatic results!
When Can Bonding Be Used?
Cosmetic bonding is highly versatile and can be used for a wide range of minor dental imperfections, including the following:
Chips and cracks
Stubborn stains, discoloration
Small gaps
Uneven teeth
Exposed tooth roots/teeth sensitivity
Oddly shaped teeth
If you find yourself hiding your teeth when you smile, call Smiles by Seese. We have a talented cosmetic dentist who can determine if you are a candidate for cosmetic dental bonding. We love offering budget-friendly options to help patients achieve a more confident smile.
Posted on behalf of Smiles By Seese
610 Jetton St. Suite 250
Davidson, NC 28036
Phone: (704) 895-5095
Email: info@smilesbyseese.com
Monday (once/month): 8AM – 5PM
Tuesday - Thursday: 8AM – 5PM
Friday: 8AM – 3PM