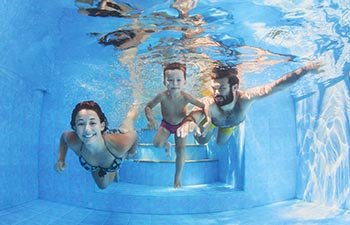 At Smiles by Seese, we want our patients to have a summer full of relaxation, memories and laughter. However, we also want to share some dental dangers that can be present during the summer months. Whether it's last-minute sleepovers, weekends of travel baseball or long days at the neighborhood pool, be mindful of these three risks towards your family's smile health this summer:
Swimming Pool

The obvious threat with swimming pools and teeth is injury. This can occur from diving off the side of the pool or running on slippery surfaces around the pool. Take caution to avoid tooth chips or bleeding gums due to pool accidents.

Another surprising danger regarding the pool is chlorinated water. If the pool water pH is too acidic (below 7), your teeth may be at risk for "swimmer's calculus." This can involve staining and sensitivity due to enamel erosion. If you have a competitive swimmer who spends hours in the pool, be sure to remind them to keep their mouth shut while underwater.

Sports and Adventure

Summer is the time when youth sports kick into gear. It may also be the chance for your family to take an adventure on the bike trails or go water rafting. If your child will be exposed to potential mouth trauma, we encourage you to consider a custom athletic mouthguard. This is a small investment that can save you significant expenses in dental repairs.

Lazy Habits

With school not in session, your kids finally have the opportunity to sleep in and stay up late. In fact, routine schedules tend to go out the window during summer. While this can be a nice relief for your stress level, don't let it cause you to slip up on your dental hygiene routines. Frequent junk food and going to bed without brushing can be a recipe for tooth decay and other dental problems.
With less on your calendar this summer, we think it's the perfect time to see us for your dental checkup. At Smiles by Seese, we can treat your entire family! Call today to schedule your family block appointment – we promise that we can get you back to your pool day promptly.
Posted on behalf of Smiles By Seese
610 Jetton St. Suite 250
Davidson, NC 28036
Phone: (704) 895-5095
Email: info@smilesbyseese.com
Monday (once/month): 8AM – 5PM
Tuesday - Thursday: 8AM – 5PM
Friday: 8AM – 3PM