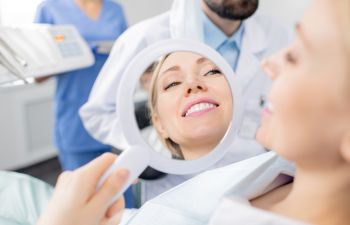 When it comes to life-changing smile makeovers, porcelain veneers are one of the most popular choices in cosmetic dentistry. While you may be convinced of their value in terms of improving your smile appearance and boosting your self-esteem, you may question whether this cosmetic dentistry service is reversible. If you don't like your veneers, can you take them off?
Porcelain veneers are designed to cover up your dental imperfections. These wafer-thin shells of porcelain are placed over your existing front teeth to hide flaws such as gaps, chips, discoloration and disproportion. In order for them to stay in place and withstand everyday dental function, a small portion of your tooth enamel must be shaved off. This allows the veneer to bond to your existing teeth more securely. This treatment step, however, makes cosmetic dental veneers an irreversible procedure.
Don't let the permanency of veneers scare you away from achieving the smile you've always wanted. It is rare to meet a patient who wants to return to their old smile after getting veneers. In fact, veneers are a positive, life-changing experience for most patients. If you don't love the way your veneers turned out – you are not stuck. Veneers can be customized in shape, color and size. Your cosmetic dentist can simply replace your veneers with a more favorable model.
Most patients welcome the long-term investment that porcelain veneers can provide on their smile aesthetics. While veneers are not reversible, you should be reminded that they are also not invincible. In other words, to avoid early damage or premature wear on your veneers, they will need to be cared for like you would your natural teeth. Don't use your veneers to chomp ice, open packages or bite your nails. You'll also need to consider a mouthguard if you grind your teeth while you sleep. Most veneers have a lifespan of about 10-20 years. It is natural and normal for them to naturally break down and need replacement after this time.
Once you've decided to get veneers, you can go back to your natural smile. But trust us, you won't want to. Veneers offer remarkable benefits, including the following:
Improve the appearance of misaligned teeth, broken, chipped, discolored, or uneven teeth;
Made to match your natural teeth color;
Do not require a special care routine
Look just like natural teeth
Procedure is easy and painless
Offers instant results
Resistant to decay and staining
Are you interested in getting more information about dental veneers? Call Smiles by Seese in Davidson. We are known for excellence in cosmetic dentistry, and our team always provides a patient-centered approach when caring for your smile.
Posted on behalf of Smiles By Seese
610 Jetton St. Suite 250
Davidson, NC 28036
Phone: (704) 895-5095
Email: info@smilesbyseese.com
Monday (once/month): 8AM – 5PM
Tuesday - Thursday: 8AM – 5PM
Friday: 8AM – 3PM