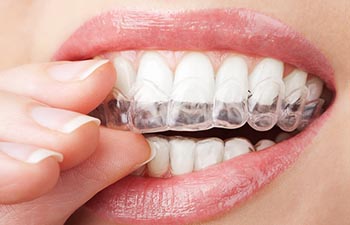 When considering orthodontics, it is common to think of kids. While children and teens make up 4 out of every 5 orthodontic patients, that doesn't mean that adults are excluded. Adults are not only candidates for smile-straightening treatment, but they can take advantage of some of the most preferred options available – such as Invisalign.
Do you wish you had braces as a child? Have your teeth migrated out of place since you had braces years ago? You are not alone. Countless adults are unhappy with their crooked or gapped teeth and want smile correction. The main drawback, however, is wearing those bulky metal braces as an adult. While it was "cool" to pick out your rubber band color for your braces in middle school, working adults aren't so keen on showing off their orthodontic treatment. Fortunately, there is a clear aligner therapy that works like braces but offers the discretion, comfort and convenience that most adults need – at any age!
How Does Invisalign Work?
Invisalign is a clear aligner system that corrects the alignment of teeth. Instead of brackets, wires and bands, Invisalign relies on clear removable aligners to move teeth into better position. Each aligner set is customized to each unique patient and changed out every two weeks until orthodontic treatment goals have been met. There are numerous advantages that adult patients gain when choosing Invisalign.
Benefits of Invisalign as a Young Adult or Aging Adult
Invisalign is clear so you won't have to sacrifice your style, self-esteem or career to straighten your smile as an adult.
Invisalign is removable so you don't have to compromise your diet or struggle to keep your teeth clean underneath braces.
Invisalign doesn't require frequent office visits so you won't have to make time in your busy adult schedule.
Invisalign is often faster than traditional braces so you won't have to wait as long for your straight, attractive smile.
Can Anyone Get Invisalign?
When it comes to being a candidate for Invisalign, older age is generally not a deal-breaker. Adults of all ages can qualify for this clear orthodontic treatment – whether you are entering the dating scene in your 20's or your retirement in your 60's. There are a few limitations that may make Invisalign a less optimal choice, such as prior dental work (bridges, implants), active periodontal disease, worn down teeth and TMJ problems. The only way to know for sure if you can benefit from Invisalign as an adult is to schedule your consult with a Certified Invisalign Provider at Smiles by Seese. We can't wait to meet with you!
Posted on behalf of Smiles By Seese
610 Jetton St. Suite 250
Davidson, NC 28036
Phone: (704) 895-5095
Email: info@smilesbyseese.com
Monday (once/month): 8AM – 5PM
Tuesday - Thursday: 8AM – 5PM
Friday: 8AM – 3PM