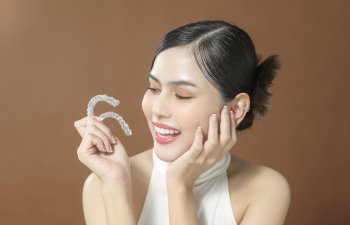 Are you dreaming of a straight, beautiful smile without the discomfort and inconvenience of traditional braces? If so, Invisalign might be the ideal solution for you. Smiles by Seese is excited to present the benefits of Invisalign, a modern and discreet alternative to traditional braces. Here are five compelling reasons why you should consider Invisalign to achieve the smile of your dreams.
1. Invisible Appearance
One of the primary reasons why Invisalign has gained immense popularity is its virtually invisible appearance. Unlike traditional braces, which consist of metal brackets and wires, Invisalign aligners are made from clear, smooth plastic. This means that when you wear Invisalign, most people won't even notice you're undergoing orthodontic treatment. Whether you're a teenager, young professional, or adult, you can confidently smile and engage in social and professional settings without feeling self-conscious about your braces.
2. Comfort and Convenience
Invisalign aligners are custom-made to fit your teeth perfectly. The aligners are made from a smooth, BPA-free plastic material, which significantly reduces the discomfort often associated with traditional braces. With no metal wires to irritate your cheeks and gums, Invisalign provides a more comfortable orthodontic experience.
Furthermore, the convenience factor sets Invisalign apart. Unlike fixed braces, Invisalign aligners can be easily removed during meals, allowing you to enjoy all your favorite foods without restrictions. Additionally, maintaining good oral hygiene is a breeze—simply remove the aligners to brush and floss as you normally would.
3. Faster Results
Invisalign treatment has been known to produce results faster compared to traditional braces in certain cases. The innovative technology behind Invisalign aligners allows for more precise and controlled tooth movements. Your dentist will create a custom treatment plan using advanced 3D imaging technology to determine the exact movement of your teeth at each stage. As a result, you may achieve your desired smile in a shorter period.
4. Predictable and Customized Treatment
When you choose Invisalign, you're opting for a treatment plan that is tailored to your unique dental needs. During your initial consultation, your dentist will evaluate your oral health and discuss your smile goals. Using cutting-edge technology, they will create a customized set of aligners that will guide your teeth into their desired positions. With the ability to see a virtual representation of your treatment plan, you can visualize how your smile will transform throughout the process.
5. Better Oral Health
Crooked or misaligned teeth can lead to various oral health issues, including gum disease, tooth decay, and even jaw problems. By straightening your teeth with Invisalign, you not only achieve a stunning smile but also improve your overall oral health. Straight teeth are easier to clean, reducing the risk of plaque buildup and cavities. Furthermore, a well-aligned bite can alleviate pressure on your jaw joints, reducing the likelihood of jaw pain and related issues.
Contact a Trusted Invisalign Provider in Davidson
Invisalign offers a modern, discreet, and effective way to achieve the smile you've always wanted. With its virtually invisible appearance, enhanced comfort, faster results, personalized treatment, and oral health benefits, it's no wonder why Invisalign has become a popular choice for people of all ages.
If you're interested in transforming your smile without the hassle of traditional braces, schedule a consultation with Smiles by Seese in Davidson and take the first step towards a confident and beautiful smile with Invisalign. Remember, a smile is a powerful thing – embrace it with Invisalign!
Posted on behalf of Smiles By Seese
610 Jetton St. Suite 250
Davidson, NC 28036
Phone: (704) 895-5095
Email: info@smilesbyseese.com
Monday (once/month): 8AM – 5PM
Tuesday - Thursday: 8AM – 5PM
Friday: 8AM – 3PM