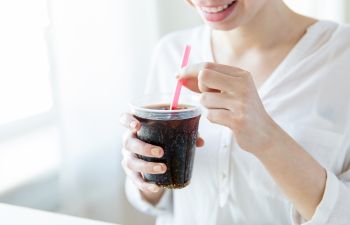 Do you prefer to drink your beverage with a straw? While you may consider the use of a straw as a matter of personal preference, it can also provide some notable benefits towards your dental health and overall health. Unless you only drink water, your beverage of choice likely contains some level of risk or compromise towards your smile health. Whether it is a high concentration of sugar, dark pigments for staining or excessive acid concentration, a straw can help protect your teeth from liquid danger.
Stains on Front Teeth: If coffee, tea or red wine is on your list of frequent beverages, you are probably aware of how they can stain your teeth. To avoid a dull, yellow or dark hue on your front teeth after you've consumed these drinks, use a straw!
Enamel Erosion: Many of the drinks that children and adults consume are either high in sugar or highly acidic, or both. Examples are sodas, energy drinks, sports drinks and even fruits juices. Without a straw, you are bathing your teeth in an acidic, sugar-laden bath. This can slowly weaken and damage your outer tooth layer (enamel) Once the enamel is gone, it doesn't grow back. A straw can help you avoid enamel erosion and the discoloration and sensitivity that is associated with this dental concern.
Bacteria Exposure/Germs: Many people opt for straws at restaurants simply for the sake of hygiene. Since we can't see the bacteria and germs that could be lingering on the rim of your glass, it is safest to use a straw for drinking in public. This can benefit your oral health and overall health.
A Warning About Straw Position
You'll need to be careful about positioning your straw in a way that your beverage is not hitting your teeth. If not, these liquids can come in repeated contact with the same back teeth in a very concentrated form, which can result in uneven tooth decay and the risk of cavities in the back of your mouth.
Are your beverages wreaking havoc on the appearance or health of your teeth? Consider using a straw. Contact Smiles by Seese for other easy and affordable tips to keep your smile at its best.
Posted on behalf of Smiles By Seese
610 Jetton St. Suite 250
Davidson, NC 28036
Phone: (704) 895-5095
Email: info@smilesbyseese.com
Monday (once/month): 8AM – 5PM
Tuesday - Thursday: 8AM – 5PM
Friday: 8AM – 3PM